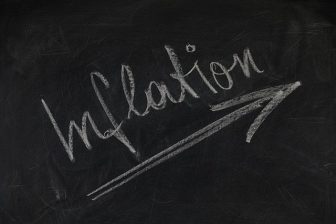 The annual growth in UK house prices has gone up much faster than the general cost of living in recent years, but that could soon be about to to change.
There are growing signs that residential property prices are slowing, while the Consumer Prices Index (CPI) measure of inflation continue to grow at an alarming rate.
Inflation is already nearly three times higher than the Bank of England's target and is expected to climb further. While inflation had previously been predicted to peak at just over 7% in spring, many predictions now put it as high as 8% or beyond with the potential for a second peak in October when Ofgem's energy price cap will rise again.
Currently energy prices have proved one of the biggest drivers of inflation making tensions with Russia, one of the world's largest gas and oil exporters, a key part of the problem.
Surging oil prices have already pushed petrol prices to record levels.
Now the cost of living crisis is already having a big impact on house prices, with many prospective buyers anticipating a slowdown in house price growth.
Jonathan Rolande, from the National Association of Property Buyers, says surging costs means the "bumper year" many homeowners were expecting will now happen.
He predicts average house prices will now dip under the rate of inflation – effectively meaning a real-terms reduction.
He said: "Had it not been for the cost of living crisis and the impact of world events, 2022 would have been a bumper year for the property market with cheap, easily accessible mortgages and no let-up in buyer demand.
"However, 2022 isn't shaping up as many had hoped and instead of a potential 4% to 6% rise this year, we will likely see much reduced growth, nationally of around 2% to 3%.
"This is lower in fact than general inflation will be, so in real terms, this a reduction. London prime residential will take a near instant hit thanks to sanctions on wealthy Russians."
Rolande said the situation for those renting homes is also likely to be increasingly tough.
"They should brace themselves for rent increases," he said. "Despite the eye-watering increases in living costs, landlords will look to boost their income to cover their increased costs and to reflect increases in the capital value of the property.
"As for buyers, owning is a long-term commitment and house-hunters must be willing to take downs as well as ups. There are still very cheap mortgages available so whatever happens to prices, the per month cost will still be lower than usual. The good news for sellers is that all the signs are there are plenty of buyers for every property and prices holding firm for now so it is still a great time to sell.
"But there's no doubt that mortgages will become more expensive and harder to obtain in the coming months as interest rates look set to rise and the cost of living crisis forces lenders to look more closely at personal outgoings when calculating affordability. The majority of homeowners are already at a fixed rate so the immediate effects will be felt by new buyers."