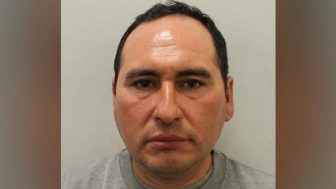 A tenant who stabbed his landlords to death in 2020 has been convicted of murder.
Daniel Briceno Garcia, 46, unleashed what has been described as a "brutal and frenzied attack" on Sonia Butron Calvi, 66, and 60-year-old Edgar Aguilera Daza.
It happened on 1 April 2020, shortly after the first national lockdown was announced.
The couple were found dead, lying in what the Old Bailey heard was a "bloodbath" at their home in Stockwell, south London. Sentencing has been adjourned.
Calvi and Daza were subletting rooms at the Dorset Road house to six tenants, including Garcia.
Prosecutor Tom Little QC told the jury Garcia was concerned about the risks of Covid as well as paying his rent during the pandemic.
Little said: That in itself you may think is understandable. It is quite another thing to react to the risks which Covid posed with the use of a knife."
He added: "What was found at the property can only be properly described as a bloodbath."
The murder weapon was found in Garcia's bedroom.
Garcia admitted manslaughter but denied murder, claiming he was hearing voices at the time of the killings.
Jurors deliberated for just 45 minutes to find him guilty of two counts of murder. Judge Mark Lucraft QC adjourned sentencing to a date to be fixed.