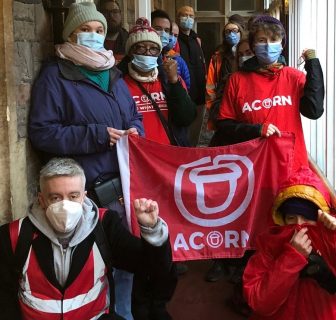 Activist group Acorn and its members are demanding that Bristol becomes a 'bid-free city' as they attempt to stop the cost of renting spiralling out of control.
Angry renters took to their campaign to end the practice of 'bidding wars' directly to agents in Bristol on Saturday, with a noisy protest along the length of North Street from Ashton Gate to Bedminster.
The campaigners filled letting agency offices with activists calling for an end to so-called 'bidding wars', condemned by Bristol City Council, which last week pledged to start looking at ways to ban it.
Letting agents in Bristol are being urged by the campaign group to sign a pledge to ban 'bidding wars'.
"We're bringing people together here today, we've done it before and we'll keep doing it, until this is a bid-free city in Bristol," said Acorn organiser Ewan Maclennan.
"We're trying to stop letting agents pitting tenants against each other to force up the price of rents, driving loads of people out of the city, out of their homes that they've been in for years, and breaking apart communities, and this is something that is going on all the time – it's affecting loads of our members," he added.
Last week the council passed a motion calling for the end to bidding wars in Bristol, condemning the practice, and instructing their officers to look into how they can ban the practice of bidding wars in Bristol.
Maclennan continued: "All of that is really encouraging. There's nothing concrete in there yet, but it's a good sign for what might happen, and it's backing up our campaign and the message that we're sending out to letting agents.
"There's a whole bunch of different ways that bidding wars actually go on. Sometimes it's letting agents encouraging people to bid and saying 'look, you know, there's lots of people interested in this house, if you bid £50 or £100 higher, you're more likely to get it'.