The latest analysis of the prime London housing market by independent property analysts, LonRes, has been published.
New instructions
August is usually a quiet month for the central London property market. But this year the market has been busier than usual, with a significant increase in vendors listing their homes for sale.
Usually new instructions in August fall back compared with July. In 2019 for example we saw 30% fewer new instructions in August compared with July. However, this year new instructions in August rose 13% compared with July.
Comparing this year with last shows the number of properties listed in August across London's prime area almost doubled, up 97% compared with August 2019. This followed a 38% increase in July.
Chart 1- Annual change in new instructions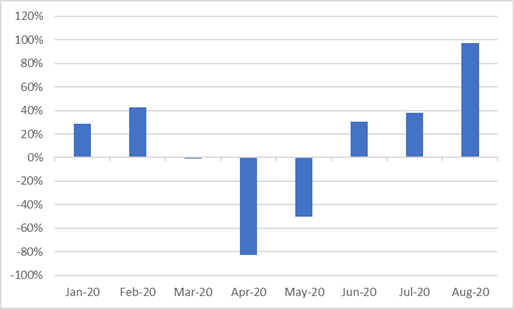 Transactions and under offer
Transactions volumes in prime areas of London continue to recover, with sales recorded in August down 23% on the same month a year ago. This compares to a 25% fall in July and 44% fewer exchanges in June.
We had hoped that we would start to see growth in August, but a longer period between offer and exchange means it may be another month or two before the increase in activity results in a positive annual change.
The average number of days between a property going under offer and exchanging contracts rose to an average of 88 days in June 2020 before falling back to 70 days in August 2020.
Looking ahead the number of homes going under offer does suggest sales (exchanges) will increase in the coming months. The number of sellers accepting offers on their prime London homes rose 8% in August, following another 10% annual increase in July.
Chart 2 – Transactions and under offer – annual change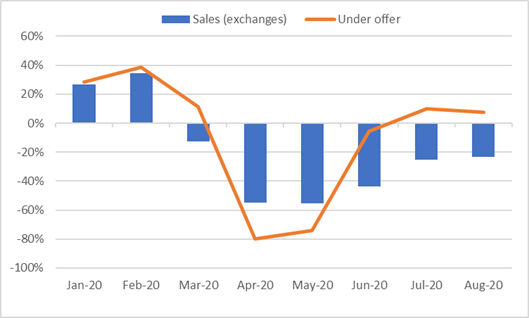 Chart 3 – Average number of days – offer accepted to exchange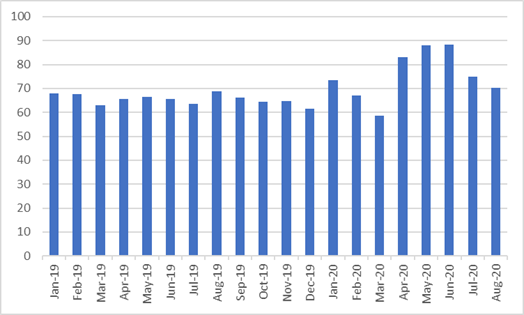 Prices and discounts
Average prices rose annually in August with an increase of 2.8% recorded compared with the same month a year ago. This followed an increase of 4.2% annually in July.
Average discounts achieved off initial asking prices fell back too. In August the average discount achieved stood at 7.3%, down from 8.2% in July 2020 and 8.9% in August last year.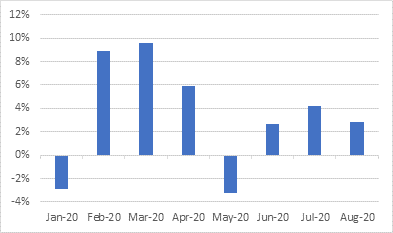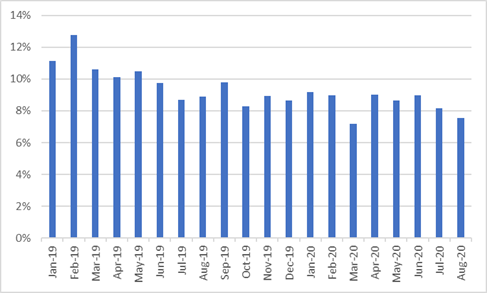 Commenting on the analysis, Marcus Dixon, head of research at LonRes said:
"The pace at which the housing market has recovered across the UK has taken many by surprise. Stamp duty incentives do play their part, but for many it appears the main driver has been the desire to change where they live, whether that be moving to a new area or simply adding a bedroom or garden to their wish list.
"Of course, the prime market has its own unique challenges. Agents are reporting fewer overseas buyers and corporate relocations, both of which provide a key source of demand for prime London homes. Add into the mix the well-publicised escape to the country and many were concerned as to how central London would fare.
"But the summer sales market has been surprisingly busy, with prices rising and more properties going under offer. We had hoped to report an annual increase in transactions in August, but a longer period between offer and exchange means it may be that we have to wait another month or two yet.
"Looking ahead there are many unknowns. What is clear is that lenders will be carefully assessing risk. Arguably this benefits a market like prime London. Prime London, with its safe-haven status and ability to appeal to a wide range of buyers, many of whom have cash or significant equity, is well suited to a more cautious lending environment."​