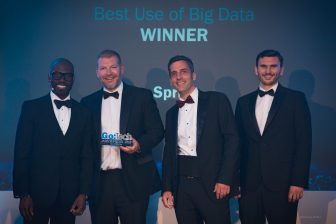 Property data specialists Sprift has won the 'Best Use of Big Data' category at the national Go:Tech Awards 2022.
The awards celebrate businesses and entrepreneurs leading the way in technology and innovation across the UK in all sectors, meaning that Sprift were up against stiff competition, including wellbeing app 87Percent, international medical solutions platform IBA Worldwide, legal and risk management platform LexisNexis Risk Solutions, AI-powered investment platform IMMO and mapping specialists Nimbus.
In their entry for Best Use of Big Data, Sprift focused on the company's work in the property industry by aggregating data from official sources and making key information readily available for every one of the UK's 29.5m residential addresses.
The judges recognised Sprift's approach towards supporting estate agents, both in terms of winning more listings and converting more viewings to achieved offers, together with supporting the transaction process by enabling all professional stakeholders to access relevant, property-specific data which contributes towards faster completions and helps to reduce fall-throughs and failed chains.
Matt Gilpin, CEO at Sprift, commented: "This is not only significant recognition of the dedication of our whole team, but also for the wider property sector, which is truly embracing new innovations and demonstrating the value it places on big data and the benefits of it for all parties in a transaction.
"Our agents and business partners tell us that they value being able to access unparalleled data, and we'll continue to build on our success and innovate further to create yet more benefits for our customers and consumers alike."
Oli Ballard, Director at Business Leader, adds: "The Go:Tech Awards by Business Leader celebrate the UK's leading tech companies and the judges were unanimous in their praise of Sprift and how it is positively impacting its sector and customers by utilising data."