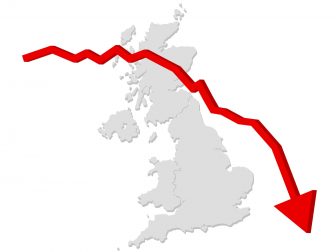 Annual UK house price growth slowed significantly in June, the latest ONS data shows.
This is the latest indicator to confirm that property prices are beginning to drop as higher interest rates and living costs continue to have an adverse impact on the housing market – and wider economy.
Earlier this month the Halifax said house prices fell in July for the first time in more than a year, while Rightmove reported on Monday that they had dropped for the first time this year.
The annual rate of property price growth fell from 12.8% to 7.8% in a month, according to the Office for National Statistics (ONS).
Tom Bill, head of UK residential research at Knight Frank, commented: "The distortions of the stamp duty holiday mean house price growth in June can largely be ignored. The bigger picture is that prices are waiting for gravity to arrive this autumn. Rising rates have driven demand as buyers attempt to move before mortgage offers expire but a more expensive lending environment will eventually see buyers' budgets cut.
"Meanwhile, the recovery in supply that began in late spring has been put on hold as more people take a summer holiday for the first time in three years. As supply builds and demand softens, we expect price growth to end the year in single digits."
The ONS data reveals that the value of the average UK house increased by £3,000 in June, taking the typical price to £286,000, up £20,000 year-on-year.
The ONS said that in England the average house price had increased by 7.3% over the 12 months to £305,000. In Wales, the average figure rose by 8.6% to £213,000. In Scotland, typical prices climbed by 11.6% to £192,000, while in Northern Ireland they rose by 9.6% to £169,000.
The managing Director of Barrows and Forrester, James Forrester, commented: "While both the monthly and annual rate of house price growth may have slowed quite considerably, the property market continues to march forward in fine form despite the fact that the rest of the economy is crumbling."
Meanwhile, separate ONS data revealed that private rents paid by UK tenants continued to rise across the country in July.
Supply-demand imbalance continuing to drive up rents as prices hit new record high