It is with considerable sadness and regret that today we are announcing that Ros Renshaw has stepped down as Editor of Property Industry Eye.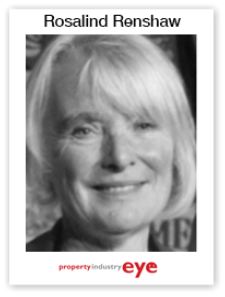 The injury she suffered in the accident last March is proving very difficult to treat and though Ros is facing her situation with characteristic stoicism and remarkably good humour, we have had to acknowledge that her ability to work effectively is likely to be impaired for quite some time to come.
As the founding editor of EYE Ros has been key to the growth and success of the publication in the last six years.
Without her we would never have started and we certainly would not have so quickly attained our extensive and loyal readership.
Ros's understanding and knowledge of estate agency and the workings of the residential property market, coupled with outstanding journalistic ability, puts her at the pinnacle of the industry's news reporting.
She is blessed with an inasatiable curiosity and an elephantine memory; traits that are so vital to first class news journalism.
Given that she never seems to sleep, never took a holiday and, until now, never seemed to get sick, Ros has been an extraordinarily effective editor and all of us stand in awe of her boundless capacity to find the stories and write them so well, day after day.
To date we have published 13,000 stories on EYE and Ros has been responsible for upwards of 80% of them.
It is an amazing output for one person and we know that she is held in great affection by her readers and hugely respected by her peers.
Over the six years Ros has scooped our friendly rivals countless times; found the real stories behind the PR puffery; stood firm against some deeply unpleasant bullies who didn't like seeing the truth in print; and given us many a laugh with her legendary April 1st foolery.
In short, Ros is a unique talent and, if she will excuse the cliche, her very big boots are going to be a challenge to fill.
I shall continue as acting-editor and your Eye correspondent for the time being while the process of finding a new editor is under way.
I'm sure readers will want to join me in sincerely thanking Ros for her outstanding contribution to EYE and also gratefully acknowledge the support she has been given in the editor role by her husband, Andrew.
All of us at EYE sincerely hope that both of them will soon enjoy full health again and that Ros will return as a contributor to our pages before too long.
Ros has sent this message to our readers:
Today marks a small change for EYE, as I am officially stepping down as editor.
Although my name has been showing in that role, the reality is that for almost three months I have neither edited the daily newsletter nor even been able to contribute to it since I took a tumble a few yards from my front door.
Unfortunately it turned out to be quite a fall, shattering a shoulder and with the complication of nerve damage which has worsened since the accident.
Nearly three months later, despite a new shoulder courtesy of the NHS, I have very little use of my arm and have ongoing pain, needing investigation and further treatment. Recovery is going to be a long-term project.
I also have other major priorities – especially my husband Andrew, always such a help behind the scenes in terms of producing EYE's editorial, but who has been contending with aggressive prostate cancer.
The decision to stand back from EYE has not been difficult in that really it has been made for me.
Nick, our managing director, has of course taken over editing duties and stepped up to the plate admirably.
The journalist in me envies him: this is such a compelling industry, awash with personalities and big issues, and full of stories that are, right up until they happen, unforeseeable.
I am not the retiring sort, so hopefully this is not so much a goodbye, but more of an adieu while I concentrate my efforts elsewhere.
I would like to thank the EYE community for your support for the newsletter, which I helped co-found just over six years ago, and particularly over the last weeks for some very kind personal messages.
I can only repay you by wishing you, your families and colleagues all the very best.
At time of Ros's accident in March, just as we entered lockdown, many people asked if they could send messages etc to Ros and Andrew at their home.
At the time his was discouraged in view of the infection risk.
Now that the risk has diminished, please feel free to contact Ros at Talbothays Farm, Winchfield, Hook, Hants RG27 8BZ