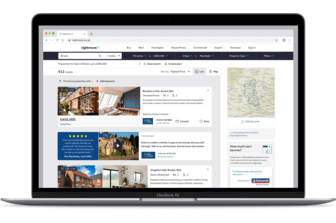 Rightmove says it will be stepping up efforts to stop estate agents marketing properties on its portal from non-paying branches, after it discovered an agency in west London had got away with not paying for 15 years.
We have decided against naming the estate agency, but a rival firm reported the company to Rightmove for marketing properties from two branches on the property portal without paying.
An email seen by EYE reveals that Rightmove will not just be taking action against the non-paying estate agency, but will also be implementing what has been described as "new provisions to address such instance".
In the email, Rightmove's legal counsel, Sam Al-Ani, wrote: "As this is a very serious issue, I have spent a significant amount of time since receiving your email to get to the bottom of this. I reiterate, as we would never discuss your account with another customer, I will not be providing any information on the measures being taken against XX [the estate agency], however I can tell you that we have picked this up and taken action with XX [the estate agency] to rectify this issue.
"Separately, I can assure you that new steps and initiatives are and were already being implemented to severely crack down on agents not declaring all of their offices and I would remind you that these types of actions directly affect Rightmove's revenue, so it is something that we have a zero tolerance policy on.
"However, with that being said, we know that it is not possible for us to police every agent in the UK and unless we find such instances in our due diligence process or it is brought to our attention by another customer we cannot always be aware of how many branches every agent has. We also do not feel it is appropriate to discuss with any one customer our wider process in dealing with a breach of our guideline.
"We again would like to commit to continue implementing our new provisions to address such instance and as you know, commit to take action immediately whenever it comes to our attention that an agent has not declared or paid for an active branch. I would also welcome any suggestions from you for how we could improve in identifying undeclared branches."
We approached Rightmove seeking clarity on what 'new provisions' they are planning to introduce, but they were not giving much away.
A spokesperson told EYE: "Agents pay per branch location or through our geographical advertising model to advertise on Rightmove. If we find branches marketing properties from a non-paying branch then we investigate and take appropriate action.
"We carry out regular detection in multiple ways to identify stock/branches in breach of our charging structure, so that all agents pay fairly for the exposure they receive.
"We're constantly improving this process to identify any non-paying branches as early as possible."