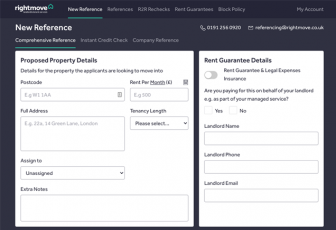 Rightmove says that its newly rebranded Landlord & Tenant Services has made improvements to the time it takes for an agent to request and receive a reference, with the average time now 20% quicker than last year.
As well as quicker referencing times, the property website argues that letting agents are now benefitting from a redesigned referencing platform that launched last week, allowing them to book a reference in just one click. All of these developments are part of Rightmove's new Rent in Five plan.
Rightmove's head of lettings, Christian Balshen, said: "We know that letting agents are busier than ever, and so we're investing in speeding up the process to help make a move-in as easy as possible. Our unique referencing platform already allows agents to start referencing through their CRM and our re-designed referencing platform aims to improve the process even further.
"As part of our 'Rent in Five' vision we're also investing in the referencing team in Newcastle as we think that people remain fundamental to creating good quality references. Letting agents must be able to rely on us to give them, their landlords, and their tenants great customer service at all times.
"We're committed to improving the rental process for letting agents, tenants and landlords and I'm excited to see how our customers respond to the newly re-designed platform."