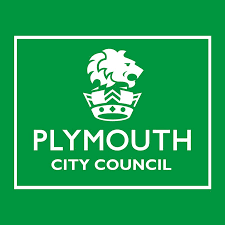 Conveyancers often blame councils for delays in property transactions, and now a comparison site has named and shamed the councils taking longest to respond to local searches.
Compare My Move has analysed the speed of local council search operations.
It says Plymouth City Council takes the longest time to complete a local land search, with the local authority taking on average 36 days to complete a local land search.
Compare My Move submitted Freedom of Information requests to over 400 UK councils.
This is 24 days longer than it took Plymouth City Council to process searches in 2020, when only an 11-day turnaround was the average.
One reason behind the rising delays could be the number of local land searches Plymouth City Council undertakes every month, which is up 80% year-on-year.
Following closely in second place is Lewes District Council taking an average of 35 days to complete a local land search – up from 19 days in 2020 – despite only receiving an average of 261 search requests a month.
Wiltshire Council (33 days), Salford City Council (33 days) and Welwyn Hatfield Borough Council (25 days) complete the top five councils most likely to delay a property completion due to their long turnaround times for local land searches.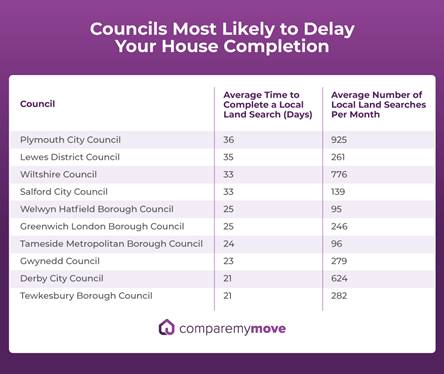 At the other end of the scale, over 60% of the councils analysed fall under the eight-day average to complete a local land search.
Impressively, 11 councils take just one working day to complete a local land search – including North Devon Council, Cardiff Council and City of York Council.
It is also worth highlighting Dartford Council receives more than 1,500 requests a month on average and manages to maintain a 24-hour average turnaround.
To put that into perspective, the other 10 Councils receive less than 530 requests on average a month.
Seven councils including Manchester City Council, Braintree District Council, Gateshead Council and Malvern Hills District Council just fall short of a 24-hour average turnaround, all completing local land searches in two working days.
Dave Sayce, founder and director at Compare My Move, commented: "Typically, the conveyancing process can take anywhere between eight to 12 weeks from the point the sale is agreed, but it will vary for everyone, depending on whether you're in a chain or not and as shown by this study, where you're buying.
"It's a crucial process to the transaction, and to ensure a stress-free process, it's vital you take on a licensed and regulated conveyancer or conveyancing solicitor to help guarantee it's completed legally."