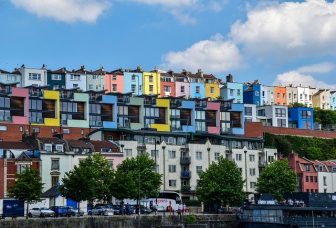 Estate agent comparison site, GetAgent.co.uk, has released its latest Homebuyer Demand Hotspots Index, revealing how it believes the market has performed across England during the final quarter of 2021.
GetAgent's Hotspots Index is a quarterly look at homebuyer demand levels across England, based on the proportion of stock listed as already sold (sold subject to contract or under offer) as a percentage of all stock listed for sale.
The findings show that Bristol saw the largest increase in quarterly demand, up by 15.5%, while Bath and North East Somerset saw the next highest quarterly growth, increasing by 4.8%.
Other locations to see strong quarterly growth, according to GetAgent, were Surrey (3.2%), Gloucestershire (3.1%), Greater London (2.9%), and the West Midlands (2.7%).
The regions to experience declining demand include Rutland (-3.3%), Cornwall (-3.2%), and Hereford (-1.8%).
Bristol also ranks top where current demand is concerned with 82.5% of all homes listed already sold or under offer.
Gloucestershire (75.2%), Wiltshire (75.2%), Dorset (75.2%), and Northamptonshire (75.2%) also ranked amongst the strongest counties for current buyer demand.
Despite a strong quarterly uplift Greater London was home to one of the lowest levels of current demand in Q4 at 47.1%, with just the City of London seeing a lower level (23.5%).
Oxfordshire (60.4%), Northumberland (61.5%), Cumbria (61.7%), and Durham (61.9%) also ranked amongst the counties with the lowest levels of demand during the final stages of 2021.
Colby Short, founder and CEO of GetAgent.co.uk, commented: "The end of the stamp duty holiday was predicted to bring about a decline in homebuyer demand during the final stages of 2021 and while there were some marginal reductions at a local market level, the market has continued to move forward largely unhindered.
"As we enter the new year, buyer demand remains strong and there is also an insufficient level of stock reaching the market to satisfy this hunger for homeownership.
"This means it's still very much a seller's market and the likelihood is that house prices will remain high throughout 2020 as buyers continue to battle it out to secure their preferred property."
"Data sourced from the major property portals during Q4, 2021, with demand based on the number of prime properties already sold subject to contract or under offer as a percentage of total properties listed."