The residential property market moved from a rapid boil to fast simmer in the past week as new enquiries from vendors and buyers dipped slightly but overall remained at record levels and more than 60% above the pre-covid-19 average, the latest data from the Yomdel Property Sentiment Tracker (YPST) shows.
For the week ending midnight 28 June, new enquiry volumes from vendors and landlords dipped ever so slightly, to finish 62% and 64% above the average, respectively, while demand from landlords followed suit to also end the week 38% above average levels.
Tenant demand also remained strong at 43% above the average, but for the first time dipped below its peak reached in mid-2019.
Andy Soloman, Yomdel founder and CEO, said:
"Things have settled somewhat in the past week, and while the flow of new leads to estate agents via live chat has slowed a little, this is only really moving from a fast boil to rapid simmer.
"New opportunities are still flooding in, while listing and transaction data shows deals are being done."
"We may be seeing the emergence of the latest "new normal" with elevated demand but this is no time for estate agents to pause for breath, they need to be urgently assisting home movers while they can.
"We've just seen another lockdown imposed in Leicester, so the advice has to be to do as much as possible as quickly as possible, but importantly, as safely as possible."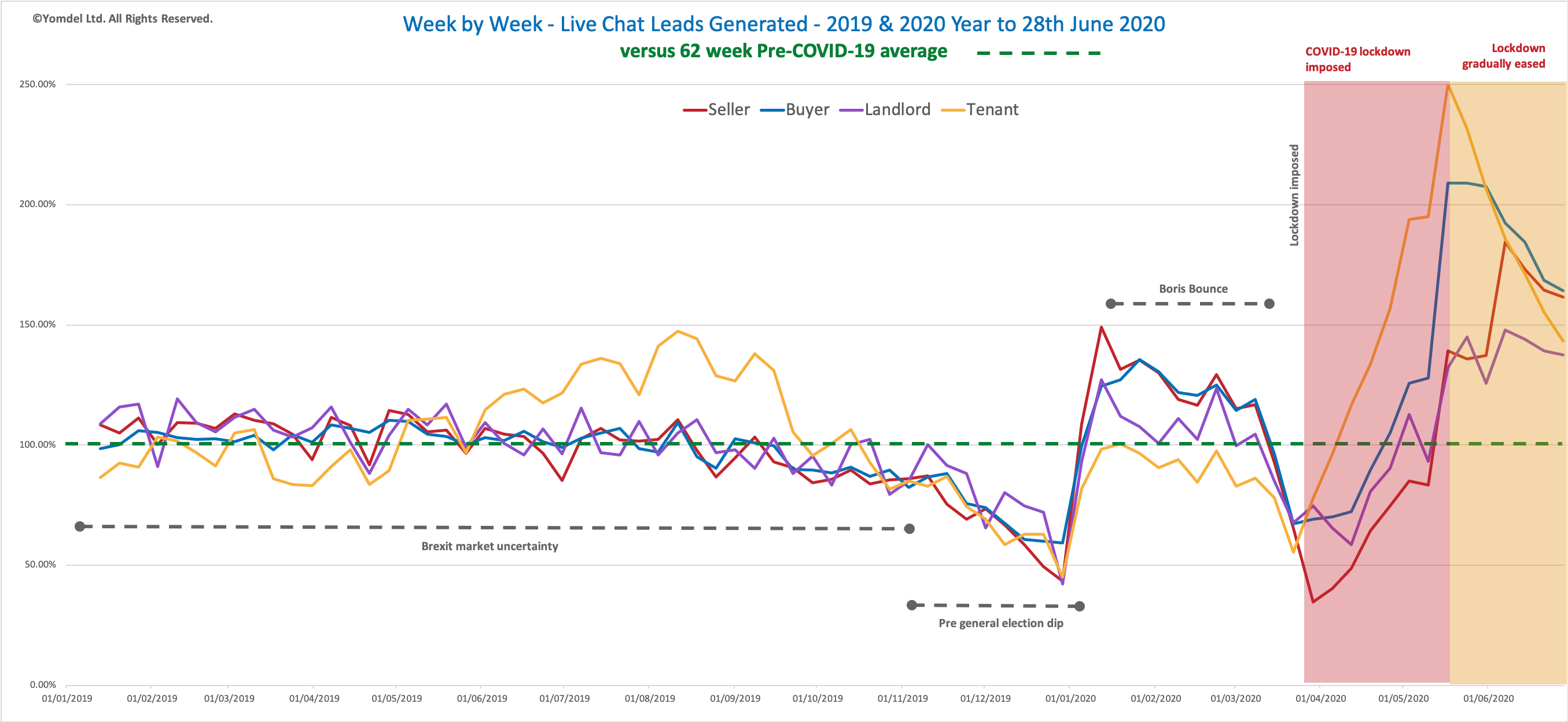 Estate agent website visitor volumes have slipped off the all-time record levels seen in the past two weeks but remain an astonishing 28% above the same week a year ago.
New vendor enquiries dipped slightly but remained 62% above the pre-covid-19 62-week average, ending the week a down 1.7%, or 2.81 points, to finish at 161.60.
Buyers followed suit, dropping 2.6%, or 4.39 points, to 164.30, but they remained an incredibly strong 64% above pre-covid-19 averages.
Landlords also cooled slightly but finished some 38% above the pre-covid-19 average dropping 1.16%, or 1.62 points, to finish at 137.53.
Demand from tenants has fallen strongest from a lockdown high of 150% above the average reached in mid-April, to settle at a still strong 43% above the pre-covid-19 average, down 7.65%, or 11.88 points, on the week at 143.37.
"UK estate agents remain incredibly busy and the market is buoyant.
"More and more home movers are now dipping not only their toes but their whole legs into pool, and agents tell us how motivated many of these people are," said Soloman.
"It is challenging, and many processes and activities have to be re-imagined, but demand is clearly there."