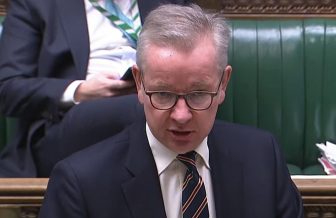 The long-awaited legislation to improve renters' rights has finally been introduced to parliament this afternoon – more than four years after the government pledged to abolish Section 21 evictions. A second reading will take place tomorrow.
In 2019, the then prime minister, Theresa May, promised to scrap Section 21 evictions, and later that year Boris Johnson vowed in the Conservative party general election manifesto "a better deal for renters", including the eviction ban.
Ministers published a rental reform white paper in summer 2022, but with six different housing ministers since 2021, draft legislation has only now been presented to parliament for debate.
The secretary of state for levelling up, housing and communities, Michael Gove, insists that the draft bill will "change the way the relationship between landlords and tenants works, providing tenants with new protection, which should ensure they are better protected against arbitrary rent increases".
Gove said the Renters' (Reform) Bill will allow tenants to challenge poor landlords without losing their home.
The reforms will also strengthen powers to evict anti-social tenants, broadening the disruptive and harmful activities that can lead to eviction and making it quicker to evict a tenant acting anti-socially
To ensure the new tenancy systems works for landlords and tenants, it will be introduced alongside a reformed courts process. For those evictions that do end up in the courts, more of the process will be digitised – designed to reduce delays.
In addition, a new ombudsman will be established to oversee dispute resolutions while a digital "property portal" will be set up to assist property managers in understanding their obligations.
Gove commented: "Too many renters are living in damp, unsafe, cold homes, powerless to put things right, and with the threat of sudden eviction hanging over them.
"This government is determined to tackle these injustices by offering a New Deal to those living in the Private Rented Sector; one with quality, affordability, and fairness at its heart.
"Our new laws introduced to Parliament today will support the vast majority of responsible landlords who provide quality homes to their tenants, while delivering our manifesto commitment to abolish Section 21 'no-fault' evictions.
"This will ensure that everyone can live somewhere which is decent, safe and secure – a place they're truly proud to call home."
Tenants will also be given the legal right to request a pet in their home, which the landlord must consider and cannot unreasonably refuse. Landlords will be able to require pet insurance to cover any damage to their property.
The government will also bring forward legislation as part of the Bill to:
+ Apply the Decent Homes Standard to the private rented sector for the first time, giving renters safer, higher quality homes and remove the blight of poor-quality homes in local communities. This will help deliver the government's Levelling Up mission to halve the number of non-decent rented homes by 2030.
+ Make it illegal for landlords and agents to have blanket bans on renting to tenants in receipt of benefits or with children – ensuring no family is unjustly discriminated against when looking for a place to live.
+ Strengthen councils' enforcement powers and introduce a new requirement for councils to report on enforcement activity – to help target criminal landlords.
The government says that the Bill is a key part of the government's mission to level up across the country and follows the wider housing reforms in the Social Housing Regulation Bill and Building Safety Act. These address the systemic issues identified following the Grenfell Tower tragedy on improving the safety and quality of social housing and how tenants are treated by their landlords.
Industry reactions: 
Rebecca Marsh, Property Ombudsman, The Property Ombudsman: "The Renters Reform Bill, as a package, is the most significant set of reforms for the private rented sector in a generation. Requiring landlords to have a reason to evict a tenant while at the same time giving them enhanced abilities to deal with anti-social behaviour, seeks to rebalance the landlord/tenant relationship. Underpinning this is the need to reduce court times and the introduction of a Landlord Ombudsman, both of which will play a fundamental role in ensuring these reforms work on a practical level.
"We look forward to continuing our work with the Department to help them develop a Landlord Ombudsman that not only resolve disputes, but also helps tenants and landlords understand their roles and responsibilities and supports the wider regulatory landscape and the court reform."
Guy Gittins, CEO of Foxtons, said: "We are glad that today, after years of speculation, we are going to see more clarity over the current and proposed rules. Landlords have waited nervously for this bill to be published, but we feel that the impact on landlords and renters will be minimal.
"While it would seem that the ban on section 21 will give renters greater security, in practice we do not believe this will change the relationship between the vast majority of landlords and tenants. In our experience, the number of times landlords choose to evict tenants who pay rent in London properties is incredibly rare.
"The key to better regulation in the Private Rental Sector is that it's coherent, accessible and consistently applied. We intend to engage with government and encourage them to look carefully at this legislation in order to protect tenants' access to decent homes, while avoiding pushing more private landlords out of the rental market in the face of London's critical need for supply."
Emily Williams, residential researcher at Savills, said: "The real challenge is probably going to be at the lower end of the market. What it's really going to do is make landlords much more careful about who they rent to and really do their due diligence on their tenants.
"It's probably going to make it tougher for people who are either on universal credit or have to use local housing allowance to secure a private tenancy."
Angharad Trueman, group lettings director at Andrews, said: "The Renters' Reform Bill is the biggest overhaul of the private rental sector in 30 years and will aim to right the imbalance between landlords and tenants.
"We cautiously welcome these changes, as there is clearly scope to further raise standards and strengthen the rights of renters. At the same time, we need to avoid unfairly tarring all landlords with the same brush.
"The country depends on a strong private rental sector to provide sufficient affordable housing for the people who live here.
"Actions that make it harder or more expensive for landlords to do this, run the risk of reducing the number of properties available. If this makes current supply challenges worse, it could cause rental prices to rise further still.
"At Andrews, our focus on striving for higher standards is key to driving up the quality of rental accommodation. We will work with the new legislation to continue to do this and in turn foster stronger relationships between landlords and their tenants."
Chris Norris, director of policy and campaigns at the National Residential Landlords Association, said: "There is so much uncertainty around this legislation, but I think there are lots of private landlords who are looking at the bottom line and what they're going to have to do over the next few years.
"We're seeing lots of landlords already not necessarily leave the market, but rationalise their portfolios and sell some of their properties. I think the bill does represent enough risk that landlords might look more carefully at where they're investing."
Sarah Bush, head of Lettings at Cheffins, said: "The Bill, which was first promised in 2019, includes a series of measures which will seek to provide higher quality homes within the private rented sector (PRS), while also protecting tenants from 'no fault evictions', and making it easier for tenants to keep pets.
"This Bill has been the elephant in the room for landlords since 2019. As always, the devil will be in the detail, however there are a number of positives which may come out of it; finally landlords will be getting some clarity on what new regulations will entail, enabling them to plan accordingly.
"Most importantly, this Bill should not cause wide-spread panic within the PRS, in fact, it should make it easier for landlords to take possession of their properties from tenants for anti-social behaviour or repeatedly missed rent payments. In addition, the new Private Renters' Ombudsman ought to ease the costs of disputes between tenants and landlords, while the new property portal should give some clarity in terms of compliance. It is therefore not the 'Anti-Landlord Charter' many in the industry are making it out to be.
"Undoubtedly, we have a housing crisis. Too many homes in the sector are of poor quality and too many tenants are living in conditions which are unacceptable. However, the government needs to be careful not to penalise the large numbers of good, responsible landlords in the sector for the sake of a proportion of rogue operators. Landlords have come under increasing scrutiny from the government over the past decade, and as rental prices increase and stock levels fall, it is important that the PRS does not become a completely unattractive option for the responsible landlords within the sector.
"Hopefully this Bill will help to level the playing field for both tenants and landlords across the country, and ensure better quality housing throughout the sector and also end the fear of no-fault evictions for the some 11 million private tenants in the UK. Hopefully when there is more meat on the bones of the changes afoot, both landlords and tenants will be able to operate within the sector with greater confidence."
Oli Sherlock, director at Goodlord, commented: "The rental sector has never been under more pressure. The ongoing delays to the publication of this Bill have caused a lot of uncertainty for the market at a time when it could ill afford it. Even now, we're not completely clear on what the final version of this legislation will contain, but at least we have more clarity on the contours after years of speculation.
"There are really positive steps to celebrate here when it comes to tenants' rights. And we've seen some softening of areas that were giving landlords major concerns – such as the ability to evict anti-social tenants or those who consistently miss rental payments. But we can't hope to sustainably reform and strengthen the lettings industry without meaningfully addressing the structural issues facing the market.
"Right now, all the anecdotal evidence points to a rising number of landlords deciding to sell up. This, combined with a chronic lack of new rental homes being built, is creating a supply and demand issue that is driving up rental prices, creating despair for tenants seeking new homes, and resulting in market conditions which this Bill hasn't been designed to fix. I think there are also valid concerns around whether the courts will be able to cope with the rise in cases this Bill will likely create, even with increased digitisation.
"The government should not see the publication of this legislation as a job done. It should be the first step in a longer line of urgent changes that are needed. A healthy rental market requires empowered, protected tenants as well as fair-minded, incentivised landlords in order to function. Any legislation that addresses one without the other won't make the difference it needs to."
Dan Wilson Craw, acting director, Generation Rent, commented: The Renters' Reform Bill is a huge opportunity to improve the lives of the 11 million people who now rent from private landlords in England. Arbitrary Section 21 evictions make it impossible for tenants to put down roots and report problems about their home with confidence. Abolishing them will take away much of the stress of renting and improve communication and trust between tenants and landlords. The new Property Portal and Ombudsman have the potential to make it much harder for criminal landlords to operate.
"These reforms wouldn't be happening without the tireless campaigning of members of the Renters Reform Coalition and thousands of renters over many years. We look forward to reading the Bill and working with ministers and parliamentarians to make sure the legislation achieves what it sets out to do.
Ben Beadle, chief executive of the National Residential Landlords Association, said: "We welcome the government's pledge to ensure landlords can swiftly recover properties from anti-social tenants and those failing to pay their rent. Plans to digitise court hearings will also improve the speed at which legitimate possession cases are processed.
"The NRLA will continue to work with the government to ensure the detail of the Bill is fair for responsible landlords and tenants alike."
Timothy Douglas, head of policy and campaigns, Propertymark, remarked: "Reforms to the private rented sector in England have been long awaited and the Bill will bring much needed clarity to letting agents, their landlords and tenants. Propertymark will support the UK Government to ensure the specific details work in practice for those on the ground, whilst providing both security and fairness for both parties of the rental agreement. It is also important implementation is well planned and managed as these reforms are significant for the sector."
A RICS spokesperson: "The Royal Institution of Chartered Surveyors (RICS) supports the government's goal of improving tenants' protections and the quality of homes in the private rental sector. However, we remain concerned for tenants as to any knock-on effects, as our RICS Residential Survey shows rents continuing to rise alongside the supply of rental properties dropping.
"The reforms, therefore, must be delivered in such a way that gives confidence to landlords and does not result in them leaving the sector, further exacerbating the challenges for tenants who are already struggling to find quality affordable homes.
"Landlords have stressed to RICS that proposals must be backed by process changes including an improved court process to make it easier for them to take back a property in legitimate cases. The creation of the new property portal is welcome in that it will provide both tenants and landlords with valuable information, however it will require support from Government to get going.
"Homes of a good standard benefit all parties, and we welcome the move to improve the quality of homes in the PRS. However, we would like to see joined-up thinking between new EPC measures and decent homes so that landlords can plan for the introduction of both and tenants know what to expect. The delay in the introduction of new energy standards for the private rental sector (PRS) demonstrates the importance of giving landlords sufficient time to prepare and undertake work. Surveyors have a huge role to play in this area, in ensuring that any standard can be applied consistently, providing reassurance for both landlords and tenants. We look forward to working with government on these issues."