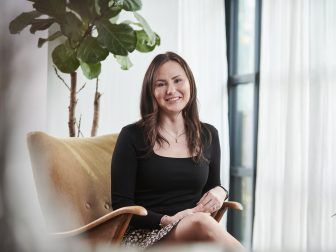 Purplebricks says the appointment of well-respected Vince Courtney as chief sales officer forms part of the firm's medium-term plan to return to profit.
The firm revealed last month that it intends to increase its annual cost savings target from £13m to £17m and make redundancies across the business.
The online agency also plans to diversify its revenue streams after recording a £42m loss in the year to 30 April, compared to a £7m profit the year before.
The new strategy, part of its "turnaround plan", includes the launch of an in-house mortgage advice arm "five months ahead of plan".
The turnaround plan, according to chief executive Helena Marston, is to return to positive cash generation in early 2024.
Purplebricks appear to be going about their business quieter than usual as it seeks to find a path to recovery. The struggling online estate agency did not inform the press that it had hired Courtney. But after EYE broke the story yesterday, Helena Marston was happy to comment on the appointment.
Marston told EYE: "With over twenty-five years of industry experience, successfully building and leading residential agency sales teams, Vince is ideally placed to embed a performance culture throughout the team and grow our market share. His appointment is a sign of confidence in our turnaround plan and the size of our ambition."
Courtney added: "I am excited to be joining the UK's biggest estate agency brand. My role here is to combine the best of estate agency experience with new technology that will transform the way people buy and sell homes.  I have had a fantastic induction and the talent and passion of the people has far surpassed my expectations."
EYE NEWSFLASH: Purplebricks appoints ex-Romans MD as Chief Sales Officer