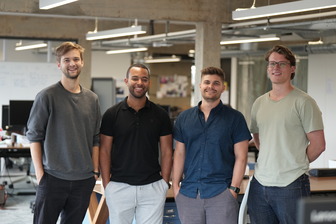 Land-sourcing platform Searchland has pledged to help developers build more homes after raising £2.3m in seed funding from venture capital company Fuel Ventures.
The PropTech start-up said the funds will be used to integrate additional datasets and further automate land-sourcing processes for finding, validating and acquiring off-market sites for development.
Searchland was founded by entrepreneur Mitchell Fasanya, land planner Hugh Gibbs, data scientist Arthur Goodhart and computer scientist Archie Kennedy-Dyson. Customers of the data-driven platform include Places for People, Galliford Try and Aster Group.
The platform features automated processes and digital workflows for admin tasks, and allows developers to search for sites according to specific criteria including the percentage of undeveloped land, use class and building height. Information such as planning history, ownership and constraints is also available via the platform.
"This funding round will allow us to accelerate product development and advance further ahead of the competition," Fasanya said. "In less than a year we've built the most sophisticated platform for land sourcing and we have a conversion rate of 70-80%. Ultimately, we want to offload all of the admin-heavy tasks for developers so they can focus on what they do best – building homes."
Mark Pearson, founder and managing partner at Fuel Ventures, said Searchland had created "a very powerful and highly scalable product". He added: "We were very impressed by the team and were keen to lead the current round with a significant ticket."