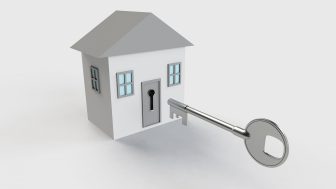 UK house prices fell in March at the fastest annual rate since the financial crisis, mortgage lender Nationwide said on Friday.
Residential property prices dropped by an average of 3.1% year-on-year, the largest such drop since July 2009, Nationwide said. Compared with February this year, prices were 0.8% lower.
According to Nationwide, the housing market is still feeling the effects of a "turning point" last year caused by the mini-budget in September 2022, which adversely affected the mortgage market.
"It will be hard for the market to regain much momentum in the near term since consumer confidence remains weak and household budgets remain under pressure from high inflation," said Nationwide chief economist Robert Gardner.
Industry reactions:
Nathan Emerson, CEO of Propertymark, said: "Our member agents are reporting transaction levels year on year to be stable and listings of new properties coming to the market also being steady.
"With a stream of serious buyers still keen to move, and prices still higher compared to this time last year, sellers are still in a strong position to sell, however they can no longer test the market at higher prices and align with those achieved last year. Instead, they will need to reduce or be open to offers in order to get a more realistic and efficient sale."
Carl Howard, Group CEO of Andrews estate agents, commented: "While the 3.1% year-on-year fall in house prices reflects current market uncertainty — the largest annual decline since 2009 — this weakening still paints a rosier picture than some of the fearful predictions offered at the end of last year.
"With the dust — and mortgage rates — relatively settled after the tremors of the mini budget, we are seeing morale slowly returning and more committed buyers and sellers. The latest data on mortgage approvals saw an above-expected rise for February, with a first monthly increase since last August.
"For those looking to get on the property ladder, a further decline in property prices could help to bolster demand by chivvying first-time buyers into action before the market rights itself again. Seller flexibility is also key, with more prepared to accept below-asking price offers to hurry their sale along.
"However there are still some large clouds overhead. This month's surprise increase in inflation coupled with an eleventh consecutive rise in interest rates will make it tough to keep a lid on the cost of borrowing. Meanwhile, rocketing rent prices, fuelled by a lack of supply, is making it even more challenging for renters trying to scrape together a deposit."
Iain McKenzie, CEO of The Guild of Property Professionals, said: "With the largest annual decline in house prices since the depths of the financial crisis, homeowners may be worried about what this means for them.
"Unlike the financial crisis, we haven't seen an aggressive drop-off in transactions, so the slowdown in prices has hardly been the crash that was expected.
"Sellers are becoming more open to negotiating with buyers on the asking price and that has the potential to skew the data.
"While we are forecasting an overall decrease of around 8% this year, this would only bring house prices in line with levels back in 2021.
"Confidence is returning to the property market following the fallout of the mini-Budget last September and we should expect further improvements, so long as inflation is brought under control this year.
"First-time buyers are being reassured by lenders, as the number of mortgage approvals recently saw the first monthly increase since August last year.
"The high cost of living remains the greatest barrier to home ownership in this country. Inflation levels continue to squeeze households and prospective buyers will need to tighten their purse strings even tighter from next month, as government support on energy bills is withdrawn."
Matthew Thompson, Head of Sales at Chestertons, said: "House hunters may not be seeing the drop in London property prices that they had hoped for. In March, the average price at which properties sold via our branches stood at £1.37mn with neighbourhoods such as Putney, Fulham and Barnes being in particularly high demand with buyers.
"Since the start of this year, many homeowners put their sale on hold to observe the market which has led to demand considerably exceeding the number of properties available for sale. This is resulting in properties keeping their value with little room for price negotiation. Throughout March, the majority of sellers have therefore been able to secure their asking price or even receive higher offers from buyers."
Nicky Stevenson, MD at Fine & Country, remarked: "March's fall in house prices is not unexpected, but all signs point to this motivating buyers as the housing market starts gearing up for the traditionally busy Easter period.
"An early indication came from the Bank of England this week as mortgage approvals in February rose for the first time in six months.
"There is no reason to think this is a blip either, as despite the latest base rate rise from the Bank of England, mortgage lenders are still cutting their rates — and this will only provide further encouragement that now is a good time to move home.
"Sellers are being realistic about the level they market their home at, and these lower prices are in turn incentivising buyers to start viewings.
"While one of the biggest drivers behind price growth in the last two years has been the limited supply of homes, stock levels are increasing, which is providing more space for price negotiations."
Jonathan Hopper, CEO of Garrington Property Finders, commented: "After seven straight months of falling house prices, the market is pushing deeper into correction territory – with average prices now 4.6% down on last August's peak.
"The slide is widespread too, with the Nationwide's data showing that prices fell in three quarters of UK regions during the first three months of the year.
"While the direction of travel is unmistakeable, price falls in many areas have been gradual rather than dramatic, especially when compared to the dizzying and unsustainable surge in prices seen during the post-pandemic boom.
"Above all, this is has become a buyer's market. With the number of sales well down on what it should be for this time of year, sellers and their estate agents are chasing buyers – and proceedable buyers who have their finances in place hold all the cards.
"Buyer demand is holding up far better than many had dared hope, but buyers are intensely price sensitive.
"Buying a home in a weakening market is always disconcerting, but softening prices strengthen buyers' hands and enable them to negotiate harder. With the mortgage market beginning to settle, falling prices may even provide a window of opportunity for first-time buyers previously frozen out by rising interest rates.
"For now, the spring bounce remains an aspiration rather than a reality, and a further softening of prices looks inevitable until there is greater comfort and clarity that inflation is falling and interest rate rises have peaked."
Jason Tebb, CEO of OnTheMarket, commented: "With March seeing a further decline in annual house price growth, the adjusting and rebalancing of the market continues.
"Rising interest rates, combined with a higher cost of living have contributed to a slowdown in activity, inevitably impacting the confidence of the average property-seeking consumer in the short term. Pressure on household budgets has been considerable and is not yet easing, although many believe inflation and interest rates are close to their peak.
"Despite these challenging conditions, there are those buyers and sellers who simply have to move and are getting on with it. Higher rates and inflation mean buyers have less buying power, so sellers need to ensure properties are priced correctly by taking advice from an experienced local agent in order to achieve a successful outcome."