A petition has been launched seeking regulation of the 'wealth creation' industry – trainers offering education in property investment.
The petition has been posted by Alan Butcher, father of Danny Butcher, who committed suicide last October.
While there is no suggestion that Danny Butcher killed himself as a result of the debts he took out to pay for his training, the suicide has been featured in press and TV coverage of such courses.
Last night the BBC's Inside Out programme featured a business called Property Investors, run by Samuel Leeds, 28, as well as interviews with Danny Butcher's family.
The programme also sent a reporter to one of the two-day free crash courses, and showed her explaining how she was a housewife with no money: she was nevertheless asked how she was going to pay for the next stage of training – which credit card she would use.
The new petition says that the property training market has grown to become worth millions of pounds, but is little regulated.
It says that supervision is needed to protect vulnerable people.
It also calls for property 'gurus' to have to show that they have an extensive portfolio, and to evidence this through tax returns, credit reports and Companies House data.
Trainers should demonstrate how much money they have made from property, and have had at least five years' experience before being allowed to offer training or mentoring, the petition argues.
The petition is asking for support from those who want the Government to get the property training industry to clean up its act.
After yesterday evening's Inside Out programme went out, property trainer  Leeds, 28, whose business runs free crash courses as well as further paid-for training, posted this: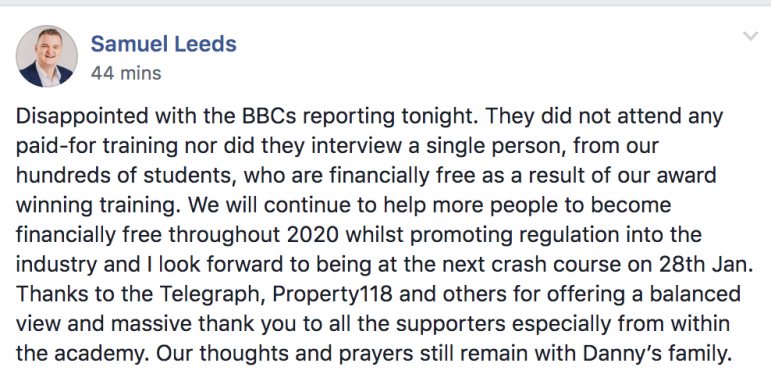 The programme itself can be seen here:
https://www.bbc.co.uk/iplayer/episode/m000dmxc/inside-out-yorkshire-and-lincolnshire-20012020