Landlords selling a property they previously lived in could face an increased tax bill almost overnight from April amid a double whammy of changes.
Previous Chancellor Philip Hammond announced in his October 2018 Budget that from this April lettings relief – worth up to £40,000 of a capital gain for landlords selling a property they currently or previously lived in – would only be made available to those who are in shared occupancy with a tenant.
He also said the Government would cut the private residence relief (PRR) in these circumstances, which previously exempted any gains made in the final 18 months of ownership, to nine months.
The changes were included in the Draft Finance Bill 2019-20 but did not make it through Parliament before the election in December.
The new rules are now expected to be mentioned in current Chancellor Sajid Javid's Budget in March and changed in the new tax year starting the following month.
Accountancy firm RickardLuckin has an interesting illustration in the table below of how much tax bills could increase by between March and April based on married couples combining the £40,000 relief to get £80,000 and using the PRR.
It highlights the difference if a married couple purchased a house on April 1 1990 for £200,000 and lived there for 20 years before then letting the property and selling for £500,000.
A married couple renting out a property could be almost £25,000 worse off when they come to sell.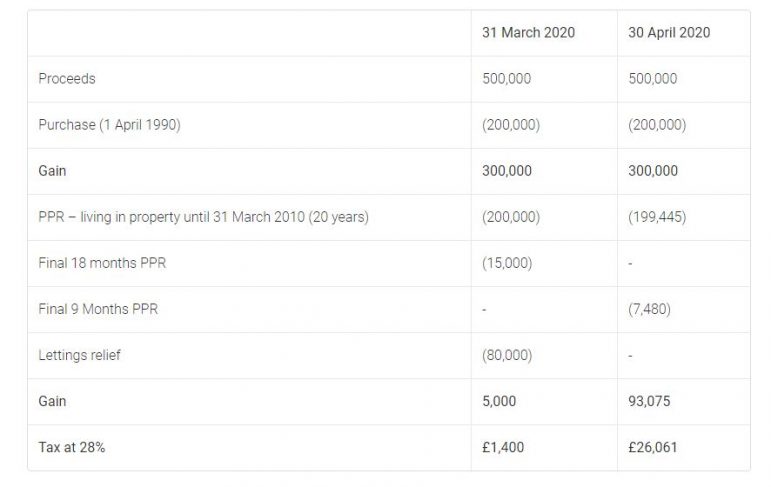 The Association of Taxation Technicians (ATT) is calling for transitional measures to avoid this cliff edge.
Michael Steed, co-chair of the ATT's technical steering group, said: "We recommend that if the shared occupation change to lettings relief goes ahead, any entitlement built up under the old rules should be frozen and preserved at April 5 2020, with the new conditions only applying to let periods after that date.
"This should help to avoid the cliff edge effect and avoid the retroactive effect of the policy."