A high number of would-be buyers in the UK do not think they will ever be able to afford to buy their own home due to record-high property prices and low availability of high loan-to-value mortgages.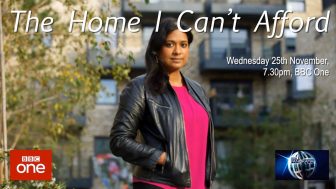 The government's shared ownership scheme is designed to help get people on the housing ladder by letting them purchase part of their property and rent the rest.
But today's Panorama show, 'The home I can't afford', which will be aired on BBC One at 7.30pm, hears from shared owners who say uncapped service charges, building defects and costly lease extensions have left them stuck in homes with soaring costs and huge debts.
One purchaser of a new build home told the Panorama documentary that she was left with a £20,000 repair bill after acquiring what she claimed was a substandard property from L&Q.
It is not just large repair bills that can be a problem for those acquiring new build homes.
Panorama found shared owners are now struggling to keep up with increasing charges.
Ahead of today's show, Katie Kendrick, founder of National Leasehold Campaign, said: "This is a very current topic because young first-time buyers are being lead to believe this is an 'affordable' way to purchase their dream home. However, for many it's turning into a living nightmare.
"Many shared ownership tenants now face financial ruin due to the cladding scandal, being unprotected from building defects.
"The government is planning 'reforms' to the scheme in 2021 and have just launched yet another consultation on these reforms but as per experts and our campaign groups, These reforms are completely senseless and fail to address all that is already wrong with the Shared Ownership model."
Martin Boyd, chair of trustees at the Leasehold Knowledge Partnership, pointed out that share ownership is often the only way that buyers can get on the housing ladder.
He commented: "As many people are finding out that step on the ladder can come at a very high price. The quality of homes is often not as good as they should be; the lease means they often face high levels of service charge for a poor-quality service; when they try to dispute these costs they often face a large landlord with access to unlimited resources in defending their position.
"With the cladding crisis, many shared ownership tenants now find themselves facing totally unaffordable costs, they are unable to sell their home to move on or change their mortgage or job. In some cases, shared owners face the prospect of being made bankrupt paying to fix the building defects caused by the developer. The shared ownership model needs to change."