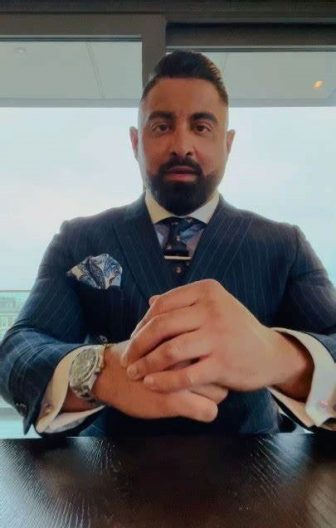 The clothes are too tight, the jewellery weighs rather too heavily and the make-up is something that even Katie Price would wince at. And that's just the men.
Channel 4's Mega Mansion Hunters has thrust Tyron Ash and his band of estate agency revolutionaries onto our screens and into our consciousnesses over four episodes of toe-curling entertainment as it lifts the lid on Ash's attempts to take on the establishment. That establishment is the oh so traditional high-end estate agency sector that has, it seems, previously sought to exclude this edgy Milton Keynes lad from their employ. The outcome of his 'face not fitting' amongst the upper echelons of the London property scene is that Ash has a point to prove to Savills, Strutts, Knight Frank etc. But the point is not really one whereby he is clambering to prove his prowess to them or us – but, I suspect, he has a point to prove to himself.
Consequently, Ash is a man on a mission. His approach to real estate is to go large. His brash brand is echoed throughout his gang of underlings in that they all hail from the same sartorial school of thought – think Wolf of Wall Street meets Stath Lets Flats – loud and proud 'elegance' that sees the girls in semi-naked Playboy Mansion esque attire and Alex, Quas and Brett, the boys, resplendent in Primarni minus the bottom half of their trousers. There must be a knock-off 'Gucci' market stallholder somewhere in Romford that's done very well for himself lately as the official supplier of outdoor slippers to this throng of property wannabees. 
This, ladies and gentlemen, is 'Towie With Tape Measures'. 
The deal stats spouted by the team are also large. Bold tales, perhaps some tall ones, of multi-million pound transactions and weekly commissions in the tens of thousands of pounds dominate the narrative and with Quas boasting of earning so much last year, £270,000 to be exact, that we hope one day he may even be able to buy clothes that fit him. Other examples are plentiful with several of the apparent 100 strong agency team laying claim to monthly fee shares of multiple thousands in their first months of working under Ash's wing – and despite them humbling themselves by insisting on still driving 10-year old VW hatchbacks.
But here's the thing, chintz aside, I rather admire Tyron Ash. He has re-invented himself from being an incarcerated distributor of Bolivian dancing powder to passionately leading a team of ravenous hustlers in the prime property market. Yes, he's shameless and as subtle as a pub fight but he is onto something and we should all take note.
When I say take note, I don't mean to emulate his demeanor or that of his troops (nor, God forbid, their fashion sense) but we should all take note of his way of doing business.
UK estate agency is positively lethargic in its attitude toward finding business. If the 'phone rings you'll often answer it and if a portal lead pops into your inbox it just might get a response as much as two-thirds of the time. Our industry as a whole is beset by lethargy and a reactionary culture that is frankly embarrassing when compared to other countries' real estate sectors and indeed other verticals. The typical estate agency business here leaves tens if not hundreds of thousands of pounds worth of fees on the table because we do not understand lead generation, much less self-generated leads. We do not understand or even attempt to understand lead nurture and the importance of building relationships from a database of potential and past customers. We just can't be bothered.
Door knocking, hand-written notes to 'on markets' and expired listings, networking and leveraging agents' own contacts are all things that most agencies simply do not do here. Yet in the US and Australia these things are basic – real estate 101 type stuff. Which is why they earn much, much more. 
And before you pull your balaclava on and start bashing your keyboard in the comment section to chastise me for being unfair – stop. Because we all know it's generally true of most estate agency outfits and if you want to crtiticise me on this then go Stateside like I've just done and talk to a couple of realtors there before you do. You'll come back with your foot in your mouth and are astonishingly more sophisticated than us and if you've not seen it and experienced it then you really won't know to what extent that is so.  
Tyron Ash is in your face, not to everyone's taste and has had a lot of stick from the industry and from the conservative-minded public over his pushy tactics. But he's doing it right.
So before you dismiss him as a caricature estate agent that demeans the industry, consider for a second that going out and grabbing business by actually asking for it is bound to be more successful and rewarding than sitting in a dusty office waiting for the next portal lead to annoyingly interrupt your CandyCrush score.
Is he a joke? Well, I wouldn't take tailor recommendations from him or his guys that's for sure. But to ignore this man's methods and not to learn from them nor to have the balls to use them yourself, would be exactly what he wants you to do. Right now, Tyron Ash has a clear run at the luxury property market and, by my reckoning, will eventually soften his rough edges and become a serious contender against the agencies that he is so determined to beat.
He has an ambitious, aggressive vision that he's actually doing something about. Don't underestimate him. In fact, copy him – albeit not his suits.              
Russell Quirk is co-founder of property PR specialist ProperPR. The opinions expressed are his own, and no, Tyron Ash is not a client of his.