The rule of thumb in our industry is that when prices accelerate hard, they subsequently hit a wall and crumble. The thing with property bubbles is that they burst.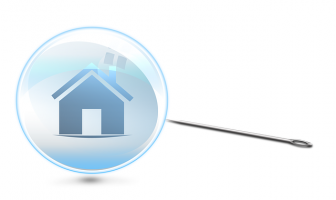 Remember 1989? Unfortunately I do and not just for the leg warmers, shoulder pads and Duran Duran (or was that just me?) but for its boom that led to bust in 1990. The resulting house price deflation as prompted by sky-high interest rates at 15% caused the property sector equivalent of a nuclear winter. It took five years for sustained positive house price growth to return.
But then 2008 was my 'favourite' crash in that it was caused by a breed of parasites deemed even lower in the food chain than estate agents – bankers, utter bankers.
Their recklessness resembled drunken monkeys at a roulette table using other people's money to make bonuses for themselves from financial instruments that no one understood. Especially them.
The vortex though was caused by a ravenous media similarly intoxicated – but for them by the mini-bar of rolling news ratings and the online content clicks that is their very own cheap-flowing supermarket cider. If you keep telling millions of people that house prices are going to crash and back it up with pessimistic 'experts' and exaggerated B-Roll of Northern Rock punters queuing round the block for their money, then it should be no surprise that you end up summoning the very embodiment of self-fulfilling prophecies.
But enough of this cheery nostalgic stuff. The UK property market is in fantastic shape right now as we've just seen the greatest 12 months in the industry's history – higher prices therefore bigger fees; and lots more transactions, the latter being the metric that estate agents should really get off on.
This boom (for it is a boom) has been created with magic dust from Downing Street goblins that sprinkled it liberally onto salivating home buyers in July of last year and stood back and waited for the chemical reaction. The goblin malignity got what they wanted as property values ignited at a rate faster than at any time since 2004 and the enthusiastic response from the media again contributed to hyping the market further albeit this time in an upwards direction. The end game of course was not to help buyers, not even happy clappy first timers, but to create a boom-on-paper that would fuel positive sentiment to keep the public positive and, importantly, get them spending money as a means of helping drag the pandemic ridden economy out of its hole. The convenient biproduct also being that homeowners who feel good about their investment are more likely to vote Conservative.
So, a win-win. But what about now that the 30th of June has been and gone and the substantive stamp duty freebie is no more?
The danger in what the Treasury have created is that crash will follow bang as history tends to repeat itself.
But hold on. As I write this in the first few days of July, I should be hearing from my unrivalled network of industry connections that thousands of deals have fallen through, sales have dried up and that pipelines are suddenly depleted. The party, as it were, should be over and the damage should be beginning to be evident as light dawns. Reminiscent of what New Year's Day 1999 was fated to bring, we should all be staring into the abyss, holding our Porsche keys and shaking our heads.
Yet, Armageddon does not appear to be happening. In fact, June, whilst lighter on listings, seems to have continued in attracting willing buyers and with one large conveyancing business, PCS Legal, telling me that their new case record was smashed last month despite those buyers knowing that their chances of a no stamp duty bonus had evaporated.
And as for fall throughs, it the much-heralded certainty of '300,000 sales falling through on 1st July' turns out to be yet more bunkum and flotsam from ravenous sub-editors and glass-half-empty experts that once again wouldn't know the UK property market if it tattooed itself on to their faces.
Demand may well come off a little in future months, but it won't be because the goblins have taken the ball away. The fundamentals of demand and cheap money are too strong to yield to a piddling four grand disadvantage when house prices are on average rising by £32,000 a year. Pay an additional £4000 to make £32,000 in a year? Of course they will.
Add to this some rather frothy economic data no doubt coming soon around GDP, manufacturing, service sector output and employment too and you have a recipe for continued growth.
But, we should worry about property prices overheating and my concern is that if inflation rockets as it is starting to, the Bank of England will respond with higher interest rates to stem it, as that is their brief after all. Such a response would be a grave mistake though and one hopes that government might actually show some sense and suspend the Bank's inflation targets for a while as we recover economically.
Or, you'll have to look forward to the 1990's all over again. And I don't mean the joys of double denim, Air Jordans and Calvin Klein underpants (pictures are available on my website).
Russell Quirk is co-founder of Proper PR, the property focussed PR agency, and an estate agent for 25 years.