Property lawyers Convey Law can now check information provided by clients against information held by the government to help verify someone's identity at the start of a property transaction. This is the first such integration with a legal practice in the UK.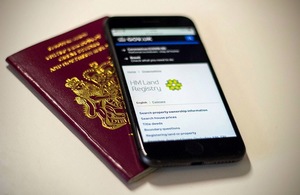 The Document Checking Service (DCS) pilot is a government initiative designed to offer organisations outside of government the ability to check information contained in a UK passport against government records to see whether they match a valid document.  The response is only 'yes' or 'no' – no other information is returned or shared.
It is hoped that this initiative will have a significant impact in reducing property crime, with criminals unable to impersonate property owners to steal, sell or mortgage their properties.
Managing Director of Convey Law Lloyd Davies, who is also the Operations Director for the Conveyancing Association and Deputy Chairman of the Society of Licensed Conveyancers commented: "This is a significant move forward for our industry in looking at solutions to keep our clients and their properties safe from criminals.
"For the first time we are able to validate passport information against Her Majesty's Passport Office; our IT system can now use the verification of passport data to identify our clients effectively. Many property lawyers do not see their clients in person and hence robust identity verification procedures are critical in ensuring that our clients are who they say they are.
"Our IT system can now use the passport data verification from the pilot in addition to our existing biometric facial recognition processes and additional electronic data sets to identify our clients effectively.
"It is very encouraging to be a part of these developing government initiatives.  After many years of campaigning, we are making progress on electronic signatures as well as the establishment of the UK digital identity and attributes trust framework, which, once finalised, will set a standard against which providers of electronic identity verification can be accredited for the first time.  This will allow for innovation in terms of risk and identity verification and help to make our property transactions safer."
At the time of the DCS Pilot launch cabinet office minister Julia Lopez commented: "The DCS pilot provides an opportunity to establish how the Government and private sector might work together for the convenience of the citizens we serve.
"It will help us learn how we can help citizens and businesses access online services by verifying a person's identity more safely and easily, unlocking the huge potential of technology to improve our everyday lives."
The minister for digital infrastructure, Matt Warman, added: "The UK has a thriving digital economy and we are committed to making it easier for people to prove their identity online without compromising personal information and for businesses to conduct checks in a safe and secure way. This pilot is a significant step forward in our work and will help speed up access to financial services and make sure more people can benefit from the huge potential of technology.
"This pilot is a significant step forward in our work and will help speed up access to financial services and make sure more people can benefit from the huge potential of technology."