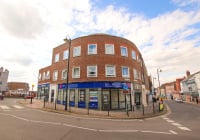 RH & RW Clutton has opened a new residential sales and letting estate agency on West Street in the centre of East Grinstead.
The West Street opening increases RH & RW Clutton's presence to two estate agencies – in both Petworth and East Grinstead, as well as the company headquarters in East Grinstead, and an office in Guildford, which house the firm's expert commercial property and land agency teams.
RH & RW Clutton's West Street office, which will open Monday to Friday from 9am to 5.30pm and on Saturdays from 9am to 1pm, will be headed up by Sam Benson, senior associate.
George Back, senior director of RH & RW Clutton, said: "Through our increased presence in East Grinstead we are excited to be capitalizing on our reputation as the area's most trusted local property partner.
"In recent months we have seen a sharp increase in residential properties on our books, and the list of applicants looking for their dream home in the English countryside continues to rise to unprecedented levels.
"West Street will serve as a shopfront to our busy residential team and will provide us with a great space in which to build even stronger partnerships with our clients and applicants."