EYE's attention has been drawn to the Zoopla listings of a north London estate agency, Mark Ashley & Co, which operates from an office in Watling Avenue, Burnt Oak, Edgware.
The agent's website says:
"As Independent Estate Agents with over 40 years experience in the business we offer a service individually catered for your needs and with the advent of the internet our size, and location knows no boundaries with Mark Ashley also succeeding throughout the Home Counties."
The firm's reach apparently extends some distance beyond the Home Counties as among the listings that the company has on Zoopla is this one for a £185,000 terraced house in Rowan Close, Nottingham: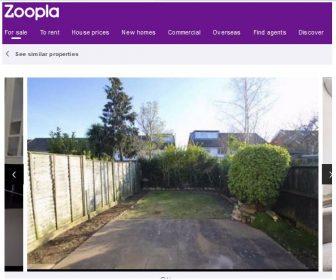 However,there is a striking similarity with a property in Falcon Drive, Stanmore, listed for £350,000 on Rightmove by Frost Partnership; and another £350,000 property in Uxbridge Road, Hillingdon, listed by Gibbs Gillespie on their own site:
Up in Leicester, Mark Ashley & Co have this £70,000 flat in Lyle Close.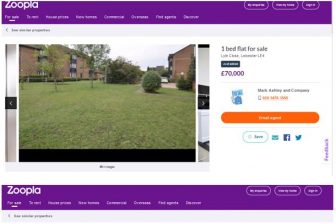 But here is a remarkably similar looking place in Boxwood Close, West Drayton. It's £162,000 and on the market with Coopers. Oh, and in Holmlea Road, Datchet, for £155,000 through Horler & Associates of Windsor:
And so it goes on. A £275,000 property in Colchester, also apparently a £260,000 property in Cheltenham:
A £365,000 semi-detached in Rainham also apparently a detached £550,000 house near Hemel Hempstead:
And a £145,000 maisonette in Northampton also apparently a maisonette in Leciester but this time for offers in excess of £175,000:
We asked Zoopla about the apparent similarities in the images and a spokesperson told us:
"We have a zero tolerance approach towards misleading listings. If an agent, seller or home hunter believes a listing is misleading we'd urge them to contact us so our dedicated Compliance team can quickly investigate this and take action."
EYE contacted Mark Ashley & Co by email and by telephone for comment yesterday but so far we have not heard back from them.
We also took a look at the firm's Google reviews.
We would like to ask them about how their listings appear to share the same photographs as those of other, completely different, properties listed with other agents in other parts of the country.
We'd also be pleased to hear from the other agents who appear to have the same photographs as those in the Mark Ashley & Co listings.
If readers have come across similar instances of image duplication, do let us know. news@propertyindustryeye.com