The operator of the Stevenage (Herts) branch of Martin & Co has been disenfranchised amid concerns about client money protection and an apparent misuse of the ARLA membership title.
The franchise company, JD Moss Ltd, has a sole director, David Moss who is understood to have been running the Stevenage branch until recently.
Yesterday, although the branch is closed and calls are apparently going to an answering service, Rightmove was still showing properties for rent under the Martin & Co Stevenage banner.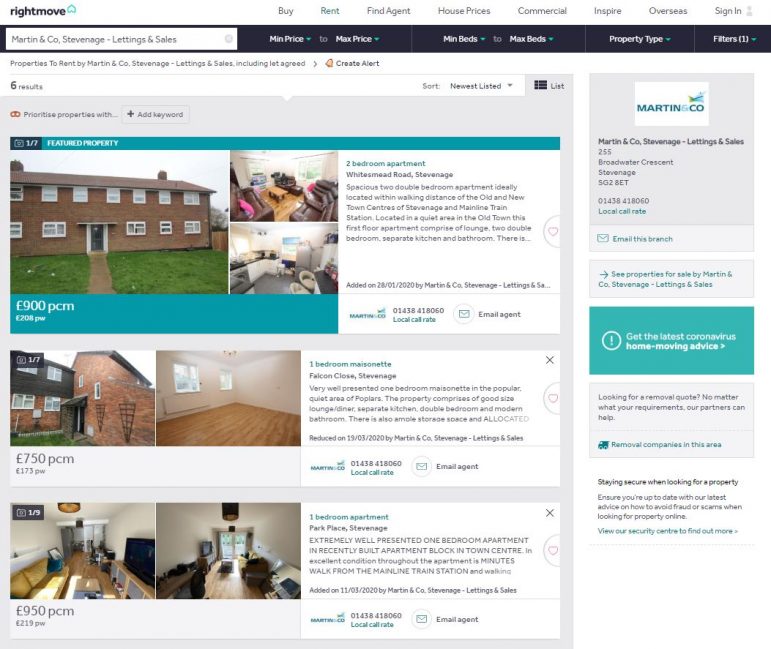 Google yesterday showed David Moss as apparently being a 'qualified member of ARLA'.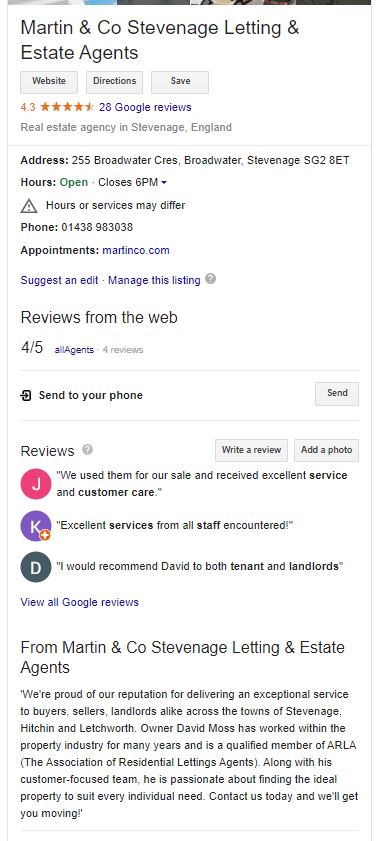 When we approached ARLA/Propertymark for a statement on the matter we were told that:
"Mr Moss is not an ARLA member and never has been; he holds no ARLA Propertymark qualifications and doesn't have CMP via Propertymark."
EYE asked Martin & Co about the reason for the disenfranchisement and whether clients monies were involved.
We received the following statement:
"Martin & Co can confirm that it has disenfranchised JD Moss Limited, formerly trading as Martin & Co Stevenage. Continuity of service will be provided to tenants or landlords through the nearby Welwyn Garden City branch which will be able to support with any enquiries going forward."
The last set of accounts for JD Moss Ltd, filed at Companies House on 31st March this year, was made up to 30th June 2019. They show the company had four employees and net assets of £24,880.
The accounts also show that 'during the year under review, the company made the following transactions with the directors:
Advances to the director £50,100 (2018 – £98,873)
Repayments from the director £10,492 (2018 – £58,914)
At June 2019 £63,496 was owed from the director (2018 £23,888)
In the light of the matters relating to lack of ARLA membership, and concerns about the protection of client monies, Martin & Co issued a further statement to EYE yesterday afternoon:
"In order to operate Martin & Co (UK) Ltd franchisees are required to have professional membership sufficient to access Client Money Protection insurance, to maintain Professional Indemnity cover and to retain membership of the Ombudsman scheme.
"Each of these conditions is checked by the franchisor on a regular basis.
 "The fact that the former franchisee continued to operate when he was unable to renew his Client Money Protection insurance is one of the key reasons Martin & Co (UK) Ltd made the decision to terminate his franchise agreement.
"Any clients of the former franchisee who have suffered a financial loss which arose during the period when he was operating as a Martin & Co (UK) Ltd licensed franchise, but without Client Money Protection insurance, will be restored by Martin & Co (UK) Ltd to the position that they would have been in had the insurance been active.
"Martin & Co (UK) Ltd does not mandate membership of ARLA, as it is content that the conditions outlined above suffice.
"As such, David had never formally identified himself as a member of ARLA to Martin & Co (UK) Ltd.
"As part of the Martin & Co (UK) Ltd audit process, franchisees' membership of established professional and regulatory bodies, such as ARLA, are validated.
"The Company will also be implementing further checks to ensure these align with any statements of accreditation in owned and paid for marketing channels, as far as is practicable."
Efforts yesterday to speak with David Moss were unsuccessful but if he would like make a statement in relation to this story we shall be pleased to hear from him.