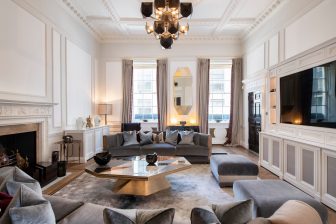 Beauchamp Estates in central London has been instructed to sell the Grade I listed Gucci mansion on Grafton Street in London's Mayfair which served as Gucci's global headquarters where designer Tom Ford and CEO Domenico De Sole worked.
The property, which comes complete with four VIP bedroom suites, a swimming pool and spa, has been put on the market for sale at an asking price of £55m. It is also available to rent for £40,000 a week.
The Grade I listed mansion on Grafton Street in Mayfair served as the Italian brand's global HQ from 1998 to 2010 after the then owners Bahrain-based investment fund purchased the fashion house from the Gucci family in 1993 and decided to move the company away from Milan.
This followed the death of Maurizio Gucci in 1995, who was shot by a hitman as he entered his office in Milan. His ex-wife Patrizia Reggiani was later found guilty of ordering the hit.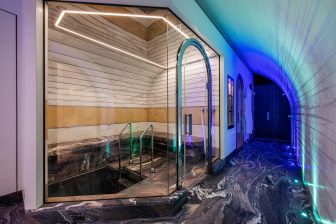 The palatial Gucci 14,000 sq.ft. mansion was originally built in 1769-1772, designed in Neo-classical style by architect Sir Robert Taylor, built by Edward Gray with magnificent gold leaf interiors by renowned plasterer Joseph Rose and cabinetmaker John Mayhew.
It was formerly the London home of Lord Chancellor Lord Brougham, where Queen Victoria and the 1st Duke of Wellington were entertained.
Its history with Gucci can be traced back to 1993 when Bahrain-based investment fund Invescorp purchased Gucci from Maurizio Gucci, ending the Gucci family's involvement which dated back to 1921 when Guccio Gucci founded the luxury brand.
Designer Ford moved into the mansion's main first floor drawing room, with its 20ft high gold-leaf ceiling with ornate Joseph Rose plasterwork, full height windows, parquet flooring and Georgian fireplaces.
Ford became the creative director at Gucci in 1994 – a time when the brand was nearly bankrupt and struggling on the high street.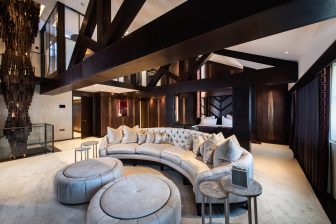 The eight-bedroom mansion is arranged over basement, lower ground, ground and four upper floors and has classical interiors, a passenger lift, gym, cinema and health club with swimming pool, plunge pool, sauna and steam room and a garage.
The accommodation includes a spacious entrance hall, four grand reception rooms, family kitchen, study/home office, four VIP bedroom suites, four further staff bedrooms, staff facilities and two floors of leisure facilities. There is access to a spacious garden terrace, first floor balconies and a sun room/conservatory on the top floor.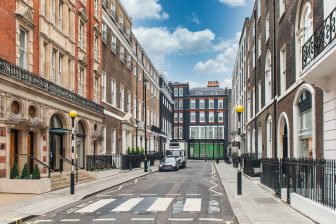 The entertainment and leisure facilities are located across the basement and lower ground floors. There is a gymnasium, a private cinema and a health spa with swimming pool, marble lined plunge pool, mosaic lined steam room and a Scandinavian style sauna. The basement garage offers secure parking for two cars.
Gary Hersham, founding director of Beauchamp Estates, said: "The former Gucci mansion, the brand's global HQ, is now Mayfair's finest house currently for sale or let. It is here that Tom Ford and Domenico De Sole entertained Alexander McQueen, Anna Wintour and François Pinault and where Lord Chancellor Lord Brougham entertained Queen Victoria and the Duke of Wellington.
"Immaculately dressed this turn-key mansion with its two floors of entertainment and leisure facilities is perfect for a family who like Gucci want a palatial residence in the heart of Mayfair."