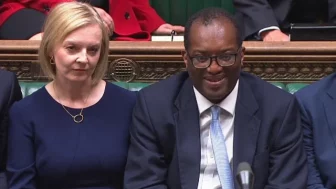 The prime minister Liz Truss will today hold emergency talks with the head of the Office for Budget Responsibility's (OBR), Richard Hughes, after failing to allay fears in the financial markets.
She will, along with the chancellor, Kwasi Kwarteng, will meet Hughes, before being presented with a first draft of its full fiscal forecasts next week.
Truss is under mounting pressure from the Treasury select committee – and others – to bring forward the government's financial statement, which is not due until 23 November, by at least a month. They want her to publish growth forecasts as soon as possible to help ease concerns.
Last night, the OBR said it could have produced a forecast in time for the mini-Budget but was not asked to do so by Kwarteng.
There was huge concern among the Conservative party last night after Truss ruled out any U-turns from the mini-Budget and a shock YouGov poll put Labour a record 33 points ahead, on 54%, to the Tories' 21%, doubling their lead from only four days ago.
The survey, undertaken on behalf of The Times, was published after Truss vowed to stick by the government's mini-Budget of last Friday, including £45bn of debt funded tax cuts, which sparked turmoil in financial markets.
The survey also followed Wednesday's intervention by the Bank of England, when it launched a £65bn emergency bond-buying programme to stem a crisis in the pensions system caused by sharply rising gilt yields.
The YouGov poll found that almost three times as many voters said Labour leader Sir Keir Starmer would make a better prime minister than Truss, who only secured the top job in parliament earlier this month.