Landlords are calling for a six month extension to the validity of all gas and electrical safety certificates to cover for the impact of the coronavirus.
This comes in response to a RLA (Residential Landlords Association) survey in March showing that 38 per cent of landlords are struggling to source maintenance contractors to undertake required work and just over a third are having difficulties undertaking work in their properties because of either themselves, or their tenants, self-isolating.
Some of the responses shown in the survey, which has been published by the  National Residential Landlords Association (into which the RLA merged in early April), highlight the issues:
"I am terrified I won't be able to be ready for the new local selective licensing. I have two tenants who are vulnerable and must not have contact with anyone. I cannot get certificates."
"Gas safety certificate is due on one property, but the tenant is vulnerable to the virus and therefore will not let anyone into property. We have to respect his health and well-being."
"[The] electrician wants me present.  I would not go into tenant accommodation to do check whilst they are there as it is impossible to keep 2m distance."
"My regular handyman wants to wait until the risk goes before carrying out a small maintenance job at tenant's property."
With tenants  concerned about letting people into their rental properties, the National Residential Landlords Association (NRLA) is calling for gas and electrical safety certificates expiring over the six month period from 1st April to be extended for six months. This would be in line with the Government's approach to MOT certificates.
This would provide the time that landlords need to ensure routine, but legally binding checks, can take place at a point when the danger of spreading the virus in rental properties should be reduced.
The NRLA is also calling on the Government to delay until next year the introduction of new routine Electrical Installation Condition Reports which are due to come into force from 1st July.
These will involve inspectors checking the wiring in all rooms of a property, possibly taking a number of hours and making it nearly impossible for tenants to properly isolate.
The survey attempted to gauge the extent of these difficulties across the PRS.
Landlords were asked how easy or difficult it was to maintain their properties.
Results are set out in in the graph below and are presented by comparing those who had found it "Difficult" or Very difficult" against those finding it "Easy" or "Very easy".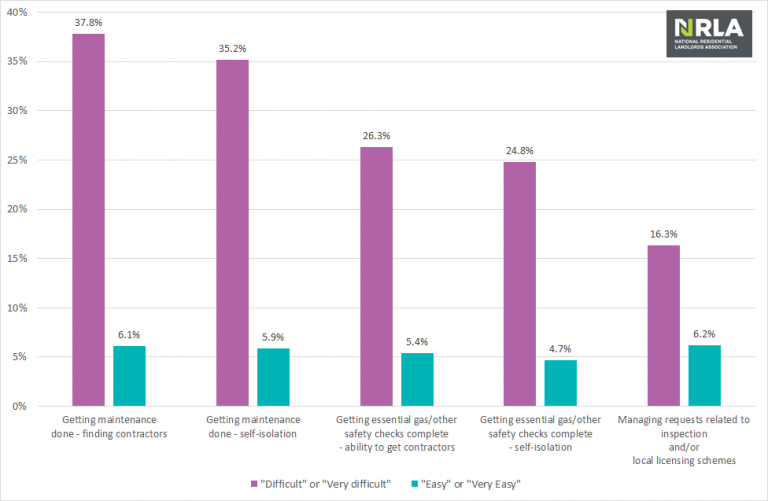 Ben Beadle, Chief Executive of the NRLA, said:
"Whilst landlords should ensure that urgent work to ensure properties are safe for tenants is carried out, routine maintenance and checks need to be delayed to prevent the spread of coronavirus.
"Extending the life of gas and electrical safety certificates will protect landlords and tenants from unnecessary contact and provide landlords with legal protection from enforcement action where they are simply unable to get such work undertaken through no fault of their own."
The survey, which focused on the views across the Private Rented Sector (PRS) on the government package of measures which support tenants and landlords, was undertaken by the RLA at the end of March, just before the RLA and NLA (National Landlords Association) merged. The intention is to run a second survey in a few weeks time of the entire NRLA membership .
The key findings were:
Landlords were concerned about the sustainability of their income streams. Many landlords rely on their rental income – in many cases to supplement inadequate pensions.
Landlords are facing problems getting routine maintenance and safety checks on their properties completed. This is reducing the quality of offer in the sector and making landlords nervous about falling foul of regulations.
In contrast to the perception of landlords, many are being sympathetic to tenant hardship and distress.
Landlord assessment of the overall package of support for the PRS was broadly neutral to positive.
There was however strong levels of support for individual elements of that package.
Full details of the survey can be found here.