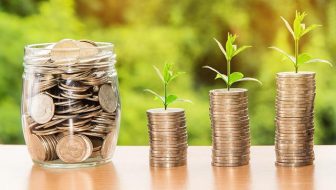 The number of mortgage applications approved by banks and building increased by 10% last month, representing the first monthly increase since August last year, the latest data shows.
In total, mortgage approvals for residential property purchases increased to 43,500 in February, up from 39,600 in January, according to the Office for National Statistics.
However, the monetary value of mortgages lent out fell sharply from £2bn to £0.7bn, the lowest level since April 2016.
Experts said this also reflected the effects of the mini-Budget, as the uncertainty had a delayed impact on property purchase completions.
Industry reactions:
Jason Tebb, CEO of OnTheMarket, said: "February saw another decline in net borrowing of mortgage debt by individuals, although there was a welcome pick-up in approvals for house purchases, an indicator of future borrowing, compared with January.
"The uptick in approvals for house purchases for the first time since August 2022 suggests that the uncertainty around the mini-Budget fallout, rising interest rates and inflation, has calmed to an extent.
"Looking forward, consumers may feel less confident in the short term with another rate rise this month and inflation ticking up again, but even in challenging markets, there are those who need to move. With various price indices suggesting a gradual slowdown in price growth or gentle decline in values in some areas, would-be buyers may be encouraged if they think prices are becoming more achievable, combined with interest rates finally peaking. There is no reason why sellers who listen to their estate agent and price realistically should not do well in this market."
Frances McDonald, director of residential research at Savills, commented: "Mortgage approvals for house purchase picked up in February but remain at two thirds of their pre-pandemic February average. This represents an improvement on January when numbers were 40% down on January 2017-19 averages and suggests numbers are now improving from their post-mini-budget lows.
"At the same time, data from TwentyCi shows that net agreed sales (agreed sales minus any fall throughs) were at 91% of their 2017-19 average in February, meaning that cash buyers are continuing to support overall transaction levels and take a greater share of the market, in line with our forecasts for this year.
"Though confidence has improved and mortgage rates have come down, the housing markets are likely to remain price sensitive and realism from both buyers and sellers will be needed when negotiating transactions."
Jonathan Samuels, CEO of Octane Capital, commented: "We had previously seen well in excess of 60,000 mortgages approved on a monthly basis throughout the pandemic market boom period. However, this level of monthly buyer activity has been in sharp decline ever since a shambolic September mini budget that thrust the market into uncertainty.
"The increase, albeit a marginal one, suggests that the green shoots of buyer demand are once again starting to grow and we expect these green shoots to blossom over the coming months, as we enter what is traditionally the busiest time of year for the UK property market."
Jason Ferrando, founder and CEO of easyMoney, said: "The uplift in mortgage approvals shows that the spring surge in market activity is underway and while the volume of mortgages being approved is unlikely to return to the highs of last year, an increase in buyer activity bodes very well for the wider health of the property market.
Of course, an eleventh consecutive interest rate hike may yet dampen the enthusiasm of the nation's buyers, who have already had to contend with the far higher cost of borrowing when entering the market."
The MD of Sirius Property Finance, Nicholas Christofi, commented: "The first increase in mortgage approvals since August of last year suggests that the frosty market conditions of recent months are now starting to thaw as buyers return to the fold.
However, it's clear that higher interest rates are taking their toll with mortgage lending continuing to decline and substantially at that.
This demonstrates that although there remains an appetite for homeownership, buyers are treading with greater caution and borrowing less, as they adjust to the changing landscape of the market."