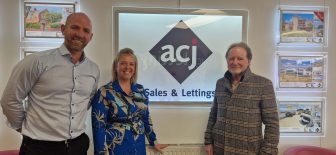 Jeffrey Ross, an independent estate agency in Cardiff, has bought ACJ Sales and Lettings in Penarth.
Jeffrey Ross has acquired the 30-year-old family business from its founder Anthony Jones in a deal which will see all 12 staff members at ACJ, based in Royal Buildings on Victoria Road in Penarth, retained.
The company's services will merge, where clients of both businesses will benefit from 50 years of combined expertise gained in the south Wales property market.
This is the second buy out Jeffrey Ross has completed in recent years, following its acquisition of Seel and Co, one of Wales' oldest auction houses, in 2019.
Jeffrey Ross has four branches in Pontcanna, Roath, Cathays and Llanishen in Cardiff. Seel and Co is also based out of its headquarters in Pontcanna. Jeffrey Ross and Seel and Co have 56 employees.
Ross Hooper Nash, MD of Jeffrey Ross, said: "We have been looking for a long time for the right business to invest in, and ACJ presented the perfect opportunity for us to grow our customer base in the Vale of Glamorgan.
"Jeffrey Ross is a family business and we were really attracted to that family ethos that Tony has fostered at ACJ, we knew that it would be a good fit with our own values and that the two companies would complement each other perfectly."
He added: "Tony has built a great team at ACJ and its expertise and foothold in both the lettings and sales side in the Vale is really important to us, and we are excited to learn more about the area from the team."
Tony Jones, who has now retired from ACJ, said of the merger: "I have known Ross for a long time and have a lot of respect for the business that he has built in Jeffrey Ross. When he came to me with his proposal to buy us out I could see the synergies between the businesses, as well as the enhanced service our current customers would get from also having the Jeffrey Ross team working for them too, which is an attractive offering.
"I want to thank my team for all their hard work and support over the past 30 years and look forward to seeing the merged company go from strength to strength."