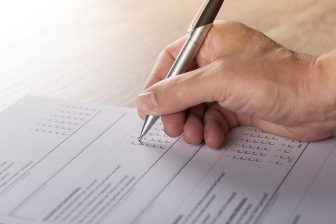 A survey of recent property sellers has been undertaken to assess how they rated their estate agent's performance.
On a scale of one to 10 with one being outstanding, 15% rated their agent's performance during their last sale as a five – the most prominent individual score.
More than 1,100 people took part in the poll, with almost a third of respondents giving their agent one of the top three scores.
But at the other end of the scale, 8% rated their agent's performance as terrible.
When it came to the asking price achieved, buyers were split down the middle. Some 47% said their agent did not achieve the asking price agreed. However, 39% did and a further 14% said their agent achieved above asking price for their property.
Some 94% of respondents said their agent advised them on what asking price to set.
The survey asked what areas of improvement people would like to see from their estate agent, with the answers ranked in the following order:
+ More proactive during the transaction in order to speed up the process;
+ Better or more frequent communication;
+ Better customer service in general;
+ More information on how their sale was progressing;
+ A higher percentage of asking price achieved;
+ Better quality of property listing and/or photos of their home;
+ More help on what was needed from the agent to progress the sale.
Alice Bullard, head of commercial at Nested, which commissioned the survey, commented: "Estate agents up and down the land have done an outstanding job during the pandemic, negotiating Covid protocols while servicing a tidal wave of market activity to help get the nation moving.
"However, not all estate agents are created equally and our latest insight into seller experience shows that choosing the right agent can dramatically improve your experience of selling a home and the outcome you achieve.
"Price is always going to be a driving factor and the very best agents will advise on a realistic asking price based on current market conditions and then go above and beyond to achieve it, or in some cases, exceed it.
"But it's clear that sellers view the added value of an estate agent above and beyond the price they achieve and constant, clear communication and a proactive approach to selling are some of the key areas they value most."
Survey of 1,159 recent UK home sellers (last six months) carried out by Nested via consumer research platform Find Out Now (6th January 2021).