The inevitable effect of the Covid lockdown is reflected in the latest Housing Supply statistics from MHCLG
The number of dwellings where – according to building control figures – building work has started on site was 15,930 in April to June 2020.
This is a 52 per cent decrease when compared to last quarter and this steep fall in activity reflects UK government COVID-19 lockdown measures.  It follows a recent trend of a slowdown in growth with six of the last six quarters showing a decrease.
The number of dwellings completed – according to building control figures – on site was 15,950 in April to June 2020.
This is a 62 per cent decrease when compared to last quarter and following on from the 5 per cent decrease in the previous quarterly change, this represents a steep fall after a period of sustained growth.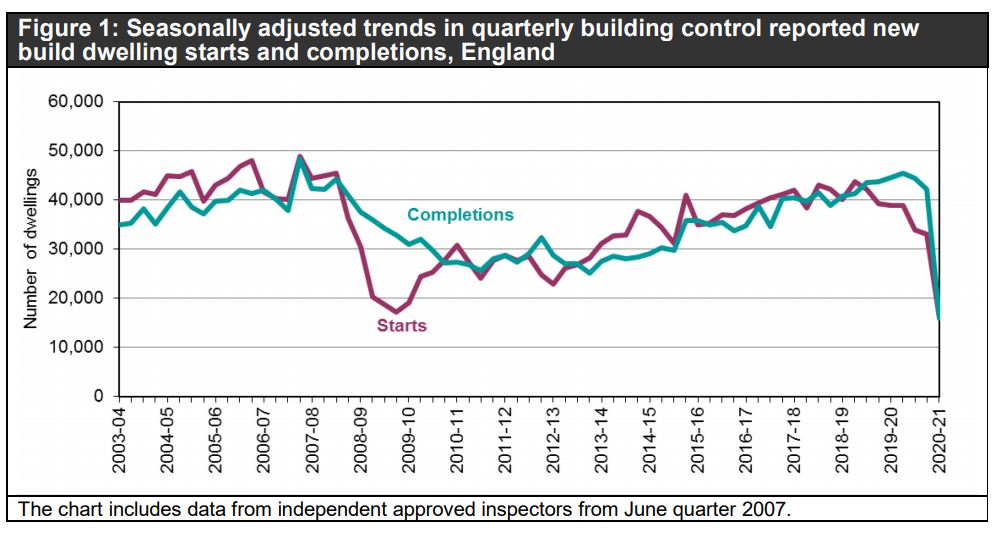 Most other performance indicators also decreased dramatically.
There were 29,000 new dwelling Energy Performance Certificates lodged in England in the quarter ending June 2020.
This represents a 56 per cent decrease compared to the same quarter last year, and a 14 per cent decrease on the previous 12 months.
There was a net increase of 243,720 in the number of domestic properties with a council tax band in England between March 2019 and March 2020
Annual new build dwelling starts were increasing from 2003-04 until reaching a peak of 183,600 in 2007. Starts fell sharply during the downturn to a low of 75,350 in the year ending June 2009. Since then, starts have experienced some periods of growth and levelling off and now decreases, averaging around 143,000 for the past two years.
Similarly, annual completions increased from 2003-04, reaching a peak of 176,650 in the year ending December 2007. Completions then fell gradually through 2008 – 2010. Despite fluctuations, completions had increased gradually from 2013 to 2019 before recent decreases in 2020, averaging around 160,000 for the past two years.
Andy Sommerville, Director of Search Acumen, commented:
"This latest data reveals the scale of the damaging impact that strict lockdown measures and the showdown of building sites had on the construction sector.
"While there were signs of recovery as sites began to re-open and demand from buyers rose sharply  in order to exploit the financial benefits offered through the higher Stamp Duty threshold from July, more recent market analysis has shown a drop in appetite, particularly from first time buyers.
"This follows the spike in Covid-19 cases which is causing economic uncertainty but is also a result of reduced availability of mortgages. The second wave is likely to dampen demand in the short term and also hamper the benefits of the Stamp Duty scheme, especially as the cut off point for completing transactions ahead of the deadline is fast approaching. Additional delays in the transaction process have been incurred due to overreliance on outdated processes.
"But this is not the moment to abandon hope. The past few months have seen rapid advancements in more agile ways of working and an uptake of technology that we cannot risk being left behind. The industry needs to continue to put better data consumption across the property market – from construction to conveyancing – in order to better identify risks upfront, drive efficiencies and bolster the UK economy in the months to come."