Anthony Codling looks at prospects for the housing market.
Last week was a very busy week for UK housing.
Cutting to the chase: House Prices (going down), Housing Supply (going nowhere), Mortgages (availability down and prices up) and Summer Statement (playing the wrong notes in the wrong order).
House Prices
Let's not sugar the pill there is downward pressure on house prices, none of the recent surveys or forecasts I've seen believes house prices will rise on the next 12 months
The consensus seems to be for a 5% fall in 2020, but perhaps more telling is that many lenders have taken the majority of their 90% and 95% Loan to Value (LTV) mortgage products off the shelves.
More telling still is the increase in pricing (mortgage rates) of the 85% LTV mortgage products since the start of the year. Are lenders planning for a 15% fall in house prices?
The bigger they come the bigger they fall?
Peak to trough house price falls during the Credit Crunch showed very little in the way of location discrimination, the North East fell the least 16% and the South East the most, falling by 20%.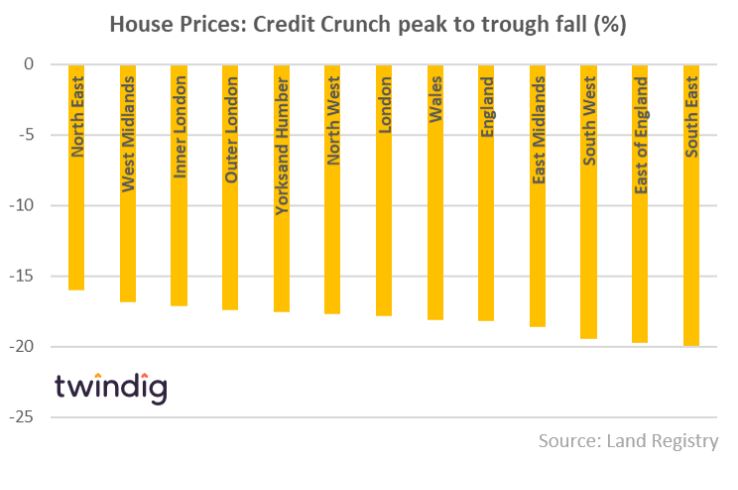 However, if we look at prices today compared to the pre-Credit Crunch peak the relative house price performance varies enormously, with the North East still 10% below its pre-Credit Crunch peak, but inner London 65% higher than its previous peak.
An all too familiar story of the rich getting richer whilst the poor get poorer.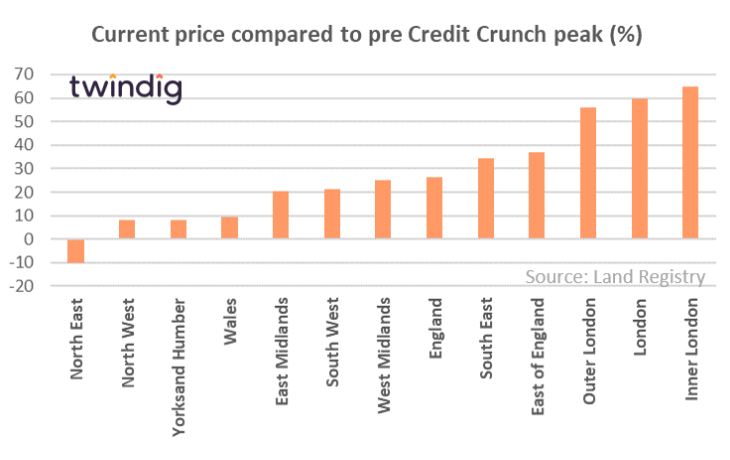 Could Working From Home and the desire for more internal and external space take the 'location' out of 'location location location' and lead to a more equitable rebalancing of house prices? Time will tell.
Interestingly Barratt, Persimmon and Vistry (Bovis Homes) all commented that house prices are currently firm, however, I suspect that reflects a lack of supply and access to Help to Buy rather than the condition of the wider housing market.
Housing Supply (It's different this time… honest…)
During the Credit Crunch – and the clue's in the name, we had a buyer drought because mortgage supply dried up. Whereas the theme of the COVID Crunch is a Seller Drought.
Demand is fine: the three biggest housebuilders all reported year on year increases in their forward order books and Persimmon this week said that cancellation rates were in-line with historic levels. Barratt reported a significant increase in demand for Help to Buy properties. Demand is fine.
Housebuilders are conserving cash and buying less land so don't expect housing supply in the short or medium-term to increase without a change in Government policy.
RICS this week reported that the last two months have seen stock levels at record lows, the average estate agent has just 39 properties on their books compared to the 90 they had during the Credit Crunch. The problem is supply.
We have enough demand for the few homes that are currently for sale. Stamp duty cuts increase demand not supply and will probably increase house prices more than they will increase the numbers of those stepping onto the housing ladder
Mortgage availability (Exit Stage left: High LTV mortgages)
If ever you want to know where the smart money is on house prices, look at mortgage supply, mortgage rates, and LTVs.
The latest data from the Bank of England shows that the pricing of high LTV mortgages has been increasing. Interestingly the prices to increase the most are for the 85% LTV mortgages as illustrated in the graph below.
This suggests that lenders believe they were mispriced for the COVID Climate, does this imply that lenders are preparing for house price falls of up to 15%?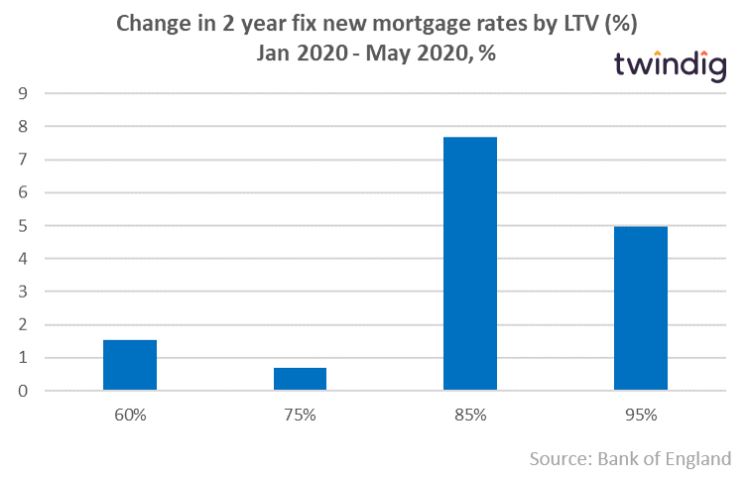 Fear of unemployment: The housing market's secret's assassin
The simple truth is that if you are worried about losing your job, you do not generally choose to sell your home and buy another one.
Fear of unemployment paralyses the housing market. Fear of unemployment is also difficult to quantify, we can measure the lagging indicator of unemployment but measuring the fear of unemployment has so far alluded us.
One thing I am sure of is that Mr Sunak has done little to calm those fears. Below I quote directly from his Summer Statement:
"I know that when furlough ends it will be a difficult moment. We have to be honest. Leaving the furlough scheme open forever gives people false hope that it will always be possible to return to the jobs they had before.
And the longer people are on furlough, the more likely it is their skills could fade, and they will find it harder to get new opportunities. It is in no-one's long term interests for the scheme to continue forever… …least of all those trapped in a job that can only exist because of a government subsidy. And the independent Office for Budget Responsibility and Bank of England are both projecting significant job losses – the most urgent challenge we now face."
Crikey, so furlough gives people false hope that they will be able to return to the jobs they had before and it is not in my interest to be in a job that can only exist because of a government subsidy – I am sure that those at the coal face, those about to be made redundant might disagree.
Maybe we should ask the employees of Accenture, Airbus, Boots, British Airways, Easy Jet, Harrods, John Lewis, Pret a Manger, TM Lewin, Upper Crust, Virgin Money, Zoopla to name but an unlucky 13….
Against this backdrop what is the Government doing for housing?
The slogan was 'Build, Build, Build', but we do not yet have the policy to underpin the rhetoric. Help to Build would be a great policy to back up the slogan…
Again straight from the Chancellor's mouth:
"Mr Speaker, One of the most important sectors for job creation is housing. The construction sector adds £39 billion a year to the UK economy; House building alone supports nearly three-quarters of a million jobs; With millions more relying on the availability of housing to find work. But property transactions fell by 50% in May. House prices have fallen for the first time in eight years. And uncertainty abounds in the market – a market we need to be thriving. We need people feeling confident – confident to buy, sell, renovate, move and improve. That will drive growth. That will create jobs."
I agree I agree I agree, so let's get Britain building, let's launch Help to Build…..
Oh, ok let's cut Stamp Duty a policy that the history books show does work but and a policy which will hamstring first-time buyers by taking away one of the few advantages they had over existing homeowners.. that should work…. That will help the market thrive. Or is the stamp duty cut a sweetener for middle England before tax rises in the Autumn?
I was also surprised that when, from a climate perspective, we are being asked to use our cars less and, from a COVID perspective, we are being asked to work from home, why are we investing in the infrastructure of yesterday (roads and rail) when we could be leading the world by investing in the infrastructure of tomorrow – high-speed broadband to every home in the country.
Surely this would create new jobs in a growing industry that would not, for at least 100 years, need a Government subsidy to exist.
What does it all mean?
House Prices (going down)
All the evidence aside from help to buy assisted new-build home sales points to falling house prices. I am not known for being a housing bear and you will usually find my glass hall full.
However, when analysis from the World Bank suggests this will be the deepest global recession since the Second World War and the broadest collapse in per capita incomes since at least 1870, talking up house prices feels as futile as King Canute talking up the tide.
Fear of unemployment is growing (putting downward pressure on housing transactions)
Over the coming weeks and month as the Furlough scheme draws to a close we will see more and more redundancies across the UK. Unfortunately, what we have seen so far may only be a foretaste of what is to come and if you are worried about losing your job you don't (out of choice) move home.
Housing supply (going nowhere)
The housebuilding recession playbook is tried and tested and it works. In times of market stress housebuilders batten down the hatches, they stop buying land and they conserve cash, like hibernating bears they stay out of the cold until better weather returns. We need more homes, but the current Government policy will lead to a contraction in our housebuilding capacity.
For the housing market to thrive, we need 'Help to Build' to increase supply.
Mortgages (will be in shorter supply and more expensive)
We have already seen mortgage products being pulled from the shelves and mortgage rates ticking up, a trend I suspect will continue for some time.
Banks have to protect their balance sheets and in my view changes to pricing and availability of mortgage products are good indicators of what the lenders (who are arguably those with the best access to the housing market data) believe will happen to house prices.
But, time is on our side (See, I said my glass was usually half full)
In times of change, we should bide our time and let the dust settle.
No one knows how long and deep or how short and shallow the COVID recession will be and none of us knows if working from home will be the new normal.
Why then would we want to rush into the biggest transaction in our lives (buying our next home) to save a relatively small amount of cash?
That saving of between 1-3% of the purchase price could be wiped out before the year-end by falling house prices and we may find we have bought at the wrong price at the wrong time in the wrong place.
Instead of rushing to buy in a market with short supply and limited choice, why don't we take the time to: work out what we what from our homes, understand whether these things are provided by our homes, get our finances in order so that we can buy a home which provides all the things we want
Anthony Codling was Executive Director at JP Morgan Cazenove, a partner at Oriel Securities, managing director of Jefferies, and CEO of Rummage4Property. He is now CEO at twindig.
This article was first published on his LinkedIn page.