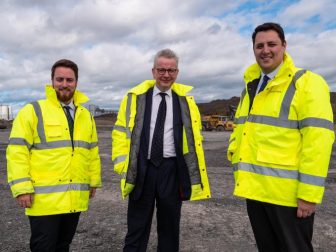 Developer London Square has expressed 'disappointed' after being named and shamed by the government for not signing the government's remediation contract and thus committing to fix unsafe buildings they developed or refurbished.
Earlier this week it was announced that 11 housebuilders, including London Square, have failed to meet the government deadline to sign contracts committing them to remediate buildings in need of fire safety improvements. See below.
Some 49 companies signed a pledge last year to remediate fire-safety defects in buildings over 11 metres that they developed or refurbished over the last 30 years in England.
But as the 13 March deadline to sign legally-binding contracts passed around a fifth of firms had still not signed.
The housing and levelling up secretary Michael Gove has warned those companies that he would be looking to take action against them, with a potential ban from the market possible.
However, London Square claims that it has not signed the government's remediation contract because it received the wrong paperwork.
A statement from London Square says: "We are disappointed to have been included in the list when we had not received a draft contract that was relevant to London Square to reflect the fact that we have no historic fire safety issues. Our lawyers are working to reach an agreement with the government lawyers and we understand they are close to achieving this. We are happy to sign when agreed.
"We fully support the government's response to building safety and agree with the principle that leaseholders should not have to pay for any costs associated with fire safety remediation work."
Following the contract deadline passing, Secretary of State for Levelling Up, Housing and Communities, Michael Gove, said: "I have been clear all along – those that are responsible for this crisis must pay. So, I am grateful to those developers who have done the right thing today by signing this legally binding contract. We will be monitoring their progress on remediation very closely, to ensure this work is completed urgently and safely. For those developers that have taken responsibility, today offers the chance for a reset, so we can get on and build more of the safe, decent and affordable homes we so desperately need.
"To those developers that have failed to sign the contract without good reason, let me be very clear – we are coming after you. If you do not sign, you will not be able to operate freely in the housing market. Your investors will see that your business model is broken – only responsible developers are welcome here."