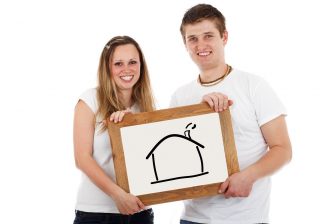 With major banks cutting rates on hundreds of mortgage deals, an increasing number of house-buyers are being tempted back in to the market.
The recent slowdown in the housing market also means that there is plenty of room for negotiations when it comes to buying property, and this is also enticing purchasers.
The National Association of Property Buyers (NAPB) say that those looking to secure a property are "now benefitting from a more balanced market, for the first time in years."
Spokesman Jonathan Rolande commented: "There's no doubt that since Christmas, we've seen an upsurge in interest across the market from buyers. Luckily, the Christmas break came at a perfect time, because it had a restorative effect on the market. Headline writers reminding us about Liz Truss, Kwasi Kwarteng and botched budgets began writing about other things.
"The cost of fixed-rate mortgages also began to drop. Memories of eight interest rate rises in 2022 faded. As soon as Christmas was over buyers were back, perhaps tentatively, but back."
He continued: "Buyers are now benefitting from a more balanced market, for the first time in years. We've already begun to see fewer 'offers over' or 'price on application' ads which very often could be interpreted as 'you tell me how much you can afford to pay'. There is still a shortage of property despite the fact there are fewer buyers and many more former buy-to-lets hitting the market. But we are no longer seeing 29 buyers per property as we did at the end of 2021. That's a good thing."
Rolande's comments come as fresh data indicates buyers are returning to the housing market amid falling mortgage rates.
According to Rightmove, demand from buyers rose by 55% this month, compared with the two weeks before Christmas. The property website said this represented the biggest "new year bounce" since 2016.
The number of buyer inquiries was also 4% higher than during the same period in 2019. It comes as mortgage rates have now fallen to their lowest in more than three months after lenders reduced the cost of deals in an escalating price war.
Rolande added: "This recalibration of the market is, for now at least, just about the best outcome we in the property sector could have hoped for.  The stratospheric rise in prices was never sustainable and simply excluded too many people from entering the market.
"A house price crash would have been an unmitigated disaster for everybody, even those who wished for it – mass unemployment and misery would have followed.
"As things stand, the market is managing to slow down in a sustainable way. Sellers can sell, buyers can buy. Prices are being reduced to tempt a smaller number of purchasers. Owning is still, in most cases, cheaper and more desirable than renting – just about. It's now up to estate agents who have entered the sector in the last ten years to learn a new set of skills – patience, negotiation and client retention as the market returns at last to normal."