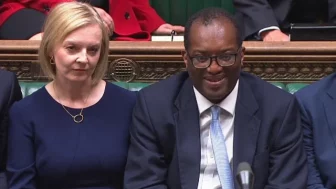 There are growing signs that the chaos caused by the tax measures outlined by the now former chancellor Kwasi Kwarteng in September last year is finally coming to an end.
The mini-budget of 23 September 2022 – included £45bn of unfunded tax cuts – was followed by days of turmoil on the markets, a fall in the value of the pound and increases in the cost of UK government borrowing and mortgage rates.
The prime minister at the time, Liz Truss, subsequently sacked Kwarteng and acknowledged that large parts of the mini-budget "went further and faster than markets were expecting".
It is true that a correction in the UK housing market was likely, but the mini-budget caused widespread turmoil that many housing commentators believe was otherwise avoidable.
Jeremy Leaf, north London estate agent and a former RICS residential chairman, said: "In our offices, we felt a slowdown was inevitable after property prices rose so far and fast last year, accelerated by the mini-Budget fallout.
"However, the increase in activity over the past few months has made us appreciate the end of the hangover is approaching and longer-term prospects are improving.
"Reasons for moving haven't disappeared, while buyers are gaining confidence from strong employment and stabilising mortgage rates even though the cost of living is still a concern."
Leaf's opinions are supposed by the latest RICS data, although the overall tone of the feedback received from respondents to the latest residential market survey is still one of caution towards the sales market, which is reflected in both the headline price and activity indicators. See below. 
Tom Bill, head of UK residential research at Knight Frank, commented, "The UK housing market has gone from tumultuous to uneventful, which has created a confusing picture. It is tempting to overdo the negativity after the chaos of the mini-Budget, but 2023 looks reassuringly pedestrian compared to recent years.
"Supply, demand and sales volumes are gradually recovering as buyers and sellers come to terms with higher mortgage rates but prices are likely to fall by a few percent as more distress enters the system. However, a strong jobs market and record levels of housing equity are two reasons the broad direction of travel this year will be sideways."
Steve Griffiths, COO at TML concurred: "The property market has undergone a significant number of trials and tribulations in recent months, with house prices falling, high interest rates and rising rents. However, while the overall picture may seem gloomy, there are sparks of optimism.
"First-time buyers are reportedly pressing ahead with property plans, with some making compromises to get onto the property ladder as planned, while property investors are taking the opportunity to snap up properties and expand their portfolios."