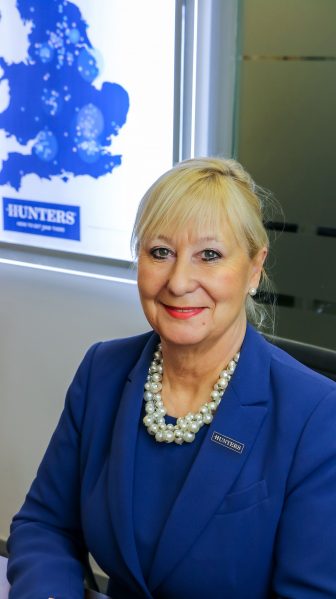 Glynis Frew will be stepping down as managing director of Hunters and from the The Property Franchise Group board at the end of this month.
Following a period of over 20 years with Hunters, having overseen its growth and subsequent integration into The Property Franchise Group, Frew will leave her existing role on 31 March, but will remain with the group in a new position as franchise training and development director.
She will now be responsible for driving the Group's agenda to be an employer of choice and implementation of new Regulation of Property Agents ("RoPA") initiatives.
Gareth Williams, an established member of the group's senior management team, will be taking on the role of Hunters MD.
Williams has a close relationship with Hunters and will move into the role following an orderly handover with Glynis.
Gareth Samples, CEO of TPFG said: "I am extremely thankful to Glynis for all she has achieved since we acquired Hunters, working closely with us to fully integrate the brand and sharing her knowledge with the wider Group. Glynis built a fantastic brand in Hunters, and I am delighted she will be remaining with the Group as Franchise Training and Development Director, enabling her to follow her passion for best-in-class training and development.
"I am confident she will continue to add ongoing value to TPFG while the day-to-day leadership of Hunters transfers into the more than capable hands of Gareth Williams. We have put together a very strong senior management team, and we are pleased to have such an experienced, accomplished leader to pass on the mantle to."
Frew commented: "I would like to take this opportunity to thank all of Hunters and the wider team for all we have achieved in recent years. I have been with Hunters since 1999 and I can honestly say it has been a privilege and an honour to either serve or represent all those that were part of the team over that time frame. I am very pleased to be continuing in my new role with TPFG to work together towards our collective success.
"Although no longer leading Hunters I will remain as a director of Hunters and take on more of a total group role. I will be tasked with driving the TPFG agenda to be an employer of choice; driving my passion for training to establish us with world class training capability. We aim to put in place a Group National Qualification, so we are ahead of the curve in terms of RoPA and the anticipated regulation for the licensing of estate agents. This will be for our entire network of franchise partners and all our colleagues."
Hunters shareholders approve takeover by The Property Franchise Group