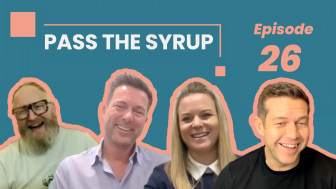 This week's Agents MVMT podcast 'Pass the Syrup', presented by Ben Madden, features Kristjan Byfield of Base Property Services, Kesha Foss-Smith of John & D Wood and Spencer Lawrence of Paramount Properties
The guests discuss agents who have no personal experience of buying, and whether this acts as a hindrance to successfully representing a client or potentially puts them at an advantage.
Guests also talk through their own personal stories as well as discussing how agents with little experience can upskill quickly.
In this week's social hand grenade, the guests review a particular post that gained a lot of traction online, but rightly so? As always, funny stories are shared along with looking at the Waffle of the Week, and as usual, Sam Offley of Agents Together, and Chirs Watkins, make an appearance.
If you would like to take part in the Agents MVMT initiative, provide a feature or be a guest on the podcast, contact Ben Madden directly at ben.madden@fineandcountry.com.