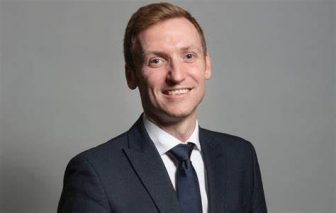 The rapid turnover in housing ministers continued last night with Lee Rowley, MP for North East Derbyshire, replacing Marcus Jones who lasted just 62 days in the role.
Rowley, 42, is the 13th Tory housing minister in the past 12 years. He became an MP in 2014, having previously served for eight years as a councillor at Westminster City Council.
He spent 16 months as deputy chair of the Conservative Party before being made a junior minister at the Department for Business, Energy and Industrial Strategy (BEIS) and a government whip last year. His brief at BEIS included construction.
He resigned his ministerial position in July along with a number of other Tory MPs in the rebellion against Boris Johnson, forcing the now former prime minister to resign.
He will report to new housing secretary Simon Clarke who was appointed earlier this month as Secretary of State for Levelling Up, Housing and Communities, as part of Liz Truss's new cabinet.
Rowley, from Chesterfield, started his career as an estate agent, before becoming a banker – fulfilling a number of finance and consultancy roles at Barclays, Santander, KPMG and Co-op Insurance.
Meanwhile, prime minister Liz Truss is expected to announce major plans to cut stamp duty in the government's mini-budget this week in an attempt to stimulate activity in the housing market and boost economic growth.
According to The Times, Truss and Kwasi Kwarteng, the chancellor, have been working on the plans for more than a month and will announce them on Friday.
Truss believes that cutting stamp duty will encourage economic growth by allowing more people to move and enabling first-time buyers to get on the property ladder.
Two Whitehall sources said that cuts to stamp duty were the "rabbit" in the mini-budget, which the government is billing as a "growth plan". The fiscal statement will also include plans to reverse the national insurance rise and freeze corporation tax, two measures that will cost