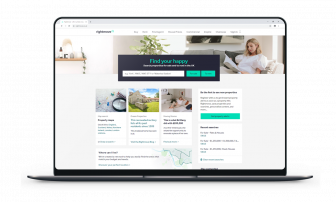 Estate agents believe the property portals are their most important digital asset, while their staff carry the greatest importance of all physical assets, according to new research.
The study found that when contemplating slower market conditions, the agents believe a two pronged approach is the best way to win business.
The survey of UK estate agents, commissioned by Nested, found that 74% believe that their digital and physical presences within the marketplace were equally as important, while the rest were split between one or the other at 13% a piece.
They were also split when it came to investing in their business in slower market conditions, with 48% stating they would continue to spend in order to win business, while 56% intend to tighten the purse strings.
Interestingly, 63% again stated that they would invest equally into both their digital and physical assets, while 30% would invest solely in digital activity, versus just 7% who would invest in physical assets alone.
So what carries the greatest importance when it comes to these areas of investment?
Where digital assets are concerned, the nation's agents ranked the property portals as the most important. A scattergun approach to advertising on all available portals ranked as the most important digital asset of all, followed by advertising on just the largest portals in the space.
An agent's website placed as the third most important digital asset, with the ability to lead capture via their website also ranking high.
A strong online customer service rating, a good social media presence, third party PR such as coverage in news articles, paid for social media marketing and organic ranking for search terms on Google also made the top 10.
When it comes to the most important physical assets, agents ranked their staff as the number one.
Word of mouth from previous customers placed second, followed by their ability to demonstrate a proven track record when it comes to a high percentage of asking price achieved.
Local expertise and a local presence, along with a proven track record for selling homes also made the top five.
A strong brand ambassador or industry spokesperson, PR or advertising within print publications, the good old For Sales board, branded cars and physical branch offices completed the top 10.
Alice Bullard, MD at Nested, commented: "It seems as though the demise of the UK property market has been greatly exaggerated but whether the market is cooling or not, it always pays to take stock of your business and what areas of investment are likely to be of the greatest importance for the year ahead.
"While there's certainly no love lost between the nation's agents and the big online property portals, they continue to provide one of the most important platforms when it comes to advertising for sale stock and reaching potential buyers.
"However, it's great to see that agents also place a high importance on their own online brand and their ability to generate their own business both via paid for and organic channels.
"Of course, the best digital marketing strategy in the world is nothing without boots on the ground to execute at the business end and it's people that continue to be the most important physical asset."