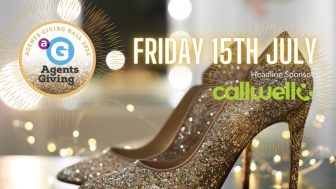 This year's Agents Giving Summer Ball will see the return of Strictly Agents Dancing, with the line-up now confirmed.
The contestants include some well-known faces – all ready to don the sequins and compete for your votes and the Agents Giving glitterball trophy.
This year's contestants are:
Kristjan Byfield – Base Property Specialists and The Depositary
Suzanna Mavity – Acaboom
Danielle Lanthier – Paramount
David Mintz – Kerfuffle
Katy Poore – Thomas Morris
Manuela Daniels– Thomas Morris
Dave Seed – Qube Residential
Bernadette Sheridan – PayProp
Natasha Sugerman – Drivers & Norris
The Agents Giving Charity Ball, headline sponsored by Callwell, will take place on Friday 15th July 2022 at Epsom Downs Racecourse in Surrey.