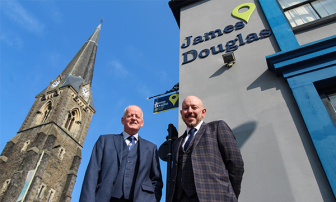 James Douglas Sales and Lettings in south Wales has acquired Leek and Weston estate agents, the second deal of its kind in 12 months.
Funded by the Development Bank of Wales, the deal will see all staff retained within James Douglas, which is one arm of The Seraph Group; a property agency headquartered in Cardiff.
Managing director, Douglas Haig, commented: "This is an incredibly exciting acquisition for us as it boosts our footprint in the Pontypridd and wider-RCT market.
"We have proudly held an office in Pontypridd so we are looking forward to all new staff joining us from there, as well as welcoming landlords and tenants.
"More broadly, this deal will see our group turnover exceed £3m which forms a key driver in our strategic growth and we're very grateful to have the support of the Development Bank."
The deal is barely 12 months after The Seraph Group added long-standing Newport agency, Nuttall Parker, to its portfolio. However, unlike that deal, Leek and Weston will not be continuing its brand and will see all assets be replaced with James Douglas in due course.
The previous owner of Leek and Weston, David Weston, is retiring but will stay as an associate with James Douglas.
Haig added: "Leek and Weston has been a business I've admired for a number of years and when David mentioned his wish to retire, I was delighted to have a discussion.
"We have worked hard with David and his team, and assured all landlords and partners that the business will be in safe hands as part of the Seraph Group."
Discussing the nature of the market in south Wales, Haig said: "We are seeing a lot of consolidation within the market, particularly as a result of the pending introduction of the Renting Homes (Wales) Act this July, which fundamentally changes how landlords and agents operate.
"Our experience in being involved in the drafting process of this legislation leaves us perfectly placed to manage this transition and we are happy to talk with others that are considering exiting the market at this time."
Emily Jones of the Development Bank of Wales commented: "The Seraph Group provides a full range of property services and is well-placed to scale-up and grow the business as opportunities arise. Our funding for this acquisition means that James Douglas now incorporates the Leek and Weston team, giving them a strong foothold in the Pontypridd market."