An agency on the Wirral has made a generous offer to NHS workers. Belvoir Sales & Lettings posted the following on Facebook and has already had positive responses.
Perhaps other Agents with spare cars could consider a similar gesture?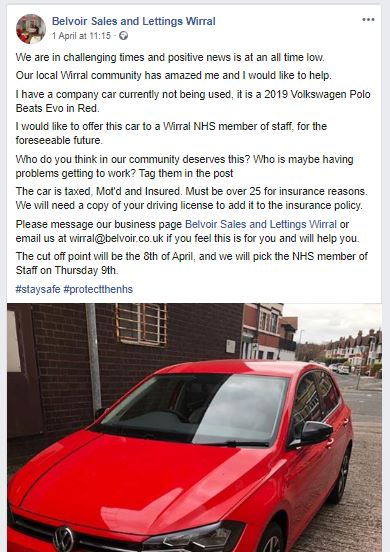 "We are in challenging times and positive news is at an all time low.
Our local Wirral community has amazed me and I would like to help.
I have a company car currently not being used, it is a 2019 Volkswagen Polo Beats Evo in Red.
I would like to offer this car to a Wirral NHS member of staff, for the foreseeable future.
Who do you think in our community deserves this? Who is maybe having problems getting to work? Tag them in the post
The car is taxed, Mot'd and Insured. Must be over 25 for insurance reasons. We will need a copy of your driving license to add it to the insurance policy.
Please message our business page Belvoir Sales and Lettings Wirral or email us at wirral@belvoir.co.uk if you feel this is for you and will help you.
The cut off point will be the 8th of April, and we will pick the NHS member of Staff on Thursday 9th.
#staysafe #protectthenhs"