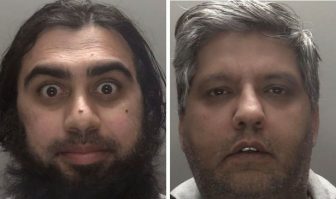 Two estate agents have been jailed for their roles in the production of cannabis at a hearing at Leicester Crown Court.
Estate agents Ossama Omar and Mohamed Latif, of Platinum Homes in Leicester, worked as part of an organised crime gang to run a £3.8m cannabis empire using 14 homes in Leicester and one in Nottingham to grow the drugs to sell on.
Three other men, Wesley Moden, as well as brothers Besmir and Gazmend Kortoci, were also jailed for their part in the growing of the class B drug.
The five men were arrested in March and April 2020. Omar and Latif denied wrongdoing but were found guilty of conspiracy to produce cannabis by a jury on Tuesday, while the other three had pleaded guilty to the charges they faced.
All five were jailed on Wednesday, each receiving sentences of five years or more. The court heard that of the 15 properties raided by the police, 13 still had large cannabis grows at the time and the other two had evidence of previous grows.
The total street value of the cannabis found was in the region of £3.8m. But the court heard that, with multiple harvests, the homes could have produced a turnover of up to £7m annually.
Platinum Homes boss Omar, 37, of Everest Court, St Matthews, Leicester, was jailed for seven years, while his "trusted right-hand man" Latif, 47, of Kitchener Road, Evington, Leicester, was jailed for five-and-a-half years.
Besmir Kortoci, 31, of Courtyard Close, Syston, was jailed for nine years and nine months for producing and supplying cannabis, as well as false document offences. His brother Gazmend Kortoci, 28, of no fixed address, was locked up for six years and nine months for conspiring to produce class B drugs, while Moden, 43, of Park Road, Wigston, got five years for conspiracy to supply.
After jailing the five men, Judge Robert Brown commented: "This was a quality piece of police investigative work. It took a keen eye and insight to see the pattern – the common thread that was linking the cases."
Addressing Omar and Latif, the judge said: "This kind of offending, at this kind of level, has to be punished severely. Rented properties presented you with the opportunity of growing the cannabis undetected if you set it up the correct way.
"The estate agents were part of the team, giving the cover needed to present the facade of legitimate landlord and tenant arrangements. This conspiracy represented serious, organised criminal activity."
Victoria Stather, who worked on the investigation as part of East Midlands Special Operations Unit (EMSOU), added: "This was a long and complex investigation which finally ended the criminal activity of a gang who had been operating on a professional and well organised level for some time.
"The combined efforts of all those involved in this investigation, whether that was around enforcement or investigation, managed to successfully seize a combined total of over 160 kilos of cannabis with an estimated street value of over £2m, drugs likely to be destined for the streets of Leicester, Leicestershire and Rutland and into the communities where you live."