The Venmore Group's Mark Russell is promoted to CEO
The Venmore Group has appointed existing head of estate agency, Mark Russell, as the firm's new chief executive officer.
Russell, who started with Venmores in 2014 as a valuer, will replace the existing CEO, Rob Farnham, who recently announced his departure from the role to join Paul Lea as fellow chairman of the group.
In his new role, Russell will oversee the management of The Venmore Group's six brands, including estate agencies, Venmores, Bradshaw Farnham & Lea and Ball & Percival, alongside auctions, commercial and financial services.
Russell said: "It's a privilege to take on the CEO role with The Venmore Group. The Venmore brand has been a main stay across Merseyside for 171 years, as current custodian of this great name, I am excited to lead a strong combination of experienced management and hugely robust teams in delivering exceptional service."
Stephen Corbett joins StripeHomes from Willmott Dixon
North East-based property developer StripeHomes has hired Stephen Corbett to lead the company's development opportunities in the Midlands, as part of the firm's expansion plans.
Corbett, who will also support managing director James Forrester with opportunities in the North East, joins StripeHomes from Willmott Dixon.
He has spent the last 10 years supporting the growth of Willmott Dixon's residential divisions.
Corbett commented: "I've seen the significant impact StripeHomes has made in the North East with a conscious focus on delivering developments that bring a broader benefit to the area and the local community rather than merely providing more housing."
He added: "StripeHomes is an exciting business that is looking to bring something different to the housing market with real consideration for first-time buyers looking to secure their first homes. This is something we need in the Midlands considering the enormous house price growth of the last few years."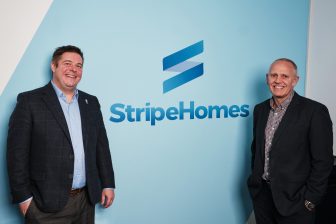 James Bainbridge is new chairman of Carter Jonas
Carter Jonas LLP has elected James Bainbridge, currently head of the firm's planning and development division, as chairman with effect from 1 November.
Bainbridge, who joined Carter Jonas in 2003, takes over from Simon Pallett, who has held the position since 2015, and who remains with the business as a partner working with his rural clients from Winchester.
Colin Brown is to succeed Bainbridge as head of planning and development and will take his place on the firm's management board.
Bainbridge said: "I am extremely honoured to have been elected as chairman of Carter Jonas. We have made great progress over the last few years and, both in my roles as head of the division and on the management board, I have taken much pleasure in working with my colleagues to determine the direction of our business and to implement change."
Mark Granger, chief executive, Carter Jonas, commented: "Simon Pallett's energy and passion for our business has helped us successfully to navigate through a period of incredible growth and change, and I'd like to thank him for his outstanding contribution. During his time in office, the business has grown by over 40% with other highlights including the opening of offices in Birmingham and Bristol.
"Replacing him is no easy task, but James Bainbridge's drive and determination have played an integral part in helping us to achieve our five-year objectives, developing our current business plan, and setting out a strategy for 2025 and beyond."
"I'd also like to congratulate Colin Brown on his new role as head of planning & development and welcome him to the management board."