A number of vacant offices in the City of London will be converted into homes in a bid to revive the area following the Covid crisis, it has been revealed.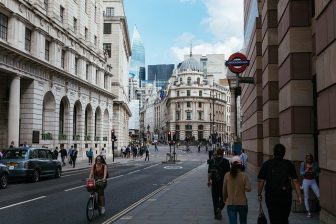 The City of London Corporation, which looks after the Square Mile, says that it plans to create at least 1,500 new homes by 2030.
During the pandemic, the city centre in London, as well as other parts of the UK, have been left deserted as workers stayed at home, in accordance with government guidance, in a bid to reduce the risk of transmitting the virus.
Policy chair of the City of London Corporation said many companies had told them their operations will change to accommodate flexible working.
The Corporation will now look to "rise to the challenge of adapting to the new normal that emerges after the pandemic".
It plans to use a mixture of new schemes and refurbishments of old buildings to meet its housing target, and that would include at least 35% affordable housing.
Although the area in and around the City dates back over 2,000 years, most of its housing stock was built in the late 1960s.
In March 2020, there were about 7,850 homes in the area – mostly found across purpose-built estates.
Under the new proposals published yesterday, long-term lets in empty buildings could be offered to people.
Catherine McGuinness, policy chair at the City of London Corporation, commented: "Firms have told us that they remain committed to retaining a central London hub but how they operate will inevitably change to reflect post-pandemic trends, such as hybrid and flexible working.
"The Square Mile must evolve in order to provide an ecosystem that remains attractive to workers, visitors, learners and residents."