Belvoir Warrington, headed up by Gary and Amanda Pemberton, has been named Belvoir Franchise of the Year 2021.
Belvoir celebrated the efforts and achievements of its franchisees during a virtual award ceremony run via a special invitation-only Zoom meeting.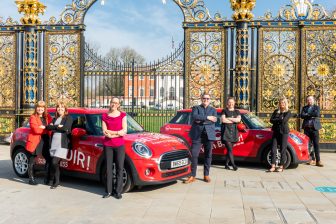 Belvoir CEO Dorian Gonsalves said: "A panel of judges at Central Office deliberated long and hard on who the winners of the Belvoir awards should be, which was no easy task. Congratulations to all of the winning franchisees, and to their teams, who should be very proud.
"I must give a special mention to Paul Wallace-Tarry from Belvoir Shrewsbury, who won the Belvoir Lifetime Achievement Award, which was sponsored by Zoopla, in recognition of all that he has achieved over the past 20 years with Belvoir.
"On the other side of the timescale, congratulations must also go to Barry and Winnie Crooks of Belvoir Macclesfield, who won the Gold Best Newcomer Award, sponsored by HSBC, after just a year with Belvoir."
Gary and Amanda Pemberton and the team at Belvoir Warrington scooped a hat trick, winning the Belvoir Online Reputation Award, and the Gold Outstanding Customer Service Award.
"This couple are very worthy winners of the top title of Belvoir Franchise of the Year 2021, sponsored by Let Alliance, and we wish them and their team every success for the future," said Gonsalves.
Speaking after the awards, Gary Pemberton said: "My wife Amanda and I were genuinely totally surprised and delighted to win these awards! We always hoped we would do well in the customer service awards, so to win the Online Reputation award and the Gold Outstanding Customer Service award was brilliant, but when Belvoir Warrington's name was read out as the winner of the Belvoir Franchise of the Year award, we were absolutely ecstatic!
"We have always placed enormous importance on customer service, and we spent our time during lockdown refining the customer journey. This is very much a team effort, and when we told them the news everyone was over the moon and incredibly proud of what they have achieved. This has been a very tough time for everybody and winning the top title has been a real boost to morale."
Full list of Belvoir annual award winners 2021
| | | |
| --- | --- | --- |
| Award | Sponsor | Franchise |
| Acquisition Award Bronze | | Belvoir Nottingham |
| Acquisition Award Silver | | Belvoir Perth |
| Acquisition Award Gold | HSBC | Belvoir St. Helens |
| Lifetime Achievement Award | Zoopla | Paul Wallace Tarry, Belvoir Shrewsbury |
| Best Newcomer – Bronze | | Belvoir Aberdeen |
| Best Newcomer – Silver | | Belvoir Sidcup |
| Best Newcomer – Gold | HSBC | Belvoir Macclesfield |
| Outstanding Customer Service Award – Bronze | | Belvoir Basingstoke |
| Outstanding Customer Service Award – Silver | | Belvoir York |
| Outstanding Customer Service Award – Gold | Yomdel | Belvoir Warrington |
| Community Champion | FFM | Belvoir Bedford |
| Sales Office of the Year – Bronze | | Belvoir Tadley |
| Sales Office of the Year – Silver | | Belvoir Basingstoke |
| Sales Office of the Year – Gold | SDL | Belvoir St. Helens |
| Lettings Office of the Year – Bronze | | Belvoir Andover |
| Lettings Office of the Year – Silver | DPS | Belvoir St. Albans |
| Lettings Office of the Year – Gold | SME Professional | Belvoir Peterborough |
| Monthly Record Breaker | | Belvoir Basingstoke |
| Group Contribution Award | | Glenn Broadwell, Belvoir Leeds North West |
| Online Reputation Award | | Belvoir Warrington |
| Belvoir Marketing Award | | Belvoir Leicester Central |
| Brook Financial Services Award | | Belvoir Telford |
| Audit Award | | Belvoir Burnley |
| Auction Champion Award | SDL | Belvoir Liverpool Prescot |
| Innovation Award | | Belvoir Tadley |
| Belvoir Franchise of the Year – Bronze | | Belvoir Basingstoke |
| Belvoir Franchise of the Year – Silver | | Belvoir Swansea |
| Belvoir Franchise of the Year – Gold | Let Alliance | Belvoir Warrington |