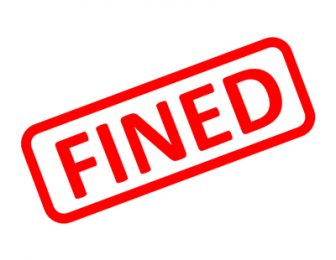 The average Anti-Money Laundering (AML) fine issued to the estate agency sector for non-compliance has increased, the latest figures show.
The data for Q1 of the 2022-23 financial year reveals that the average AML fine issued to estate agency businesses is sitting at an average of £3,815.
This marks a 6% increase compared with the average fine issued during the 2021/22 financial year although it remains the second lowest average fine since 2018/19.
That said, total fines in the first quarter of the financial year did hit £304,023, equating to 44% of total fines seen in the previous financial year in just a single quarter.
Estate agents continue to account for the largest number of AML fines issued by HMRC since the introduction of AML supervision. In fact, the sector accounts for 45.4% of all fines issued, followed by accountancy service providers (41.1%) and money service businesses (4.6%).
Since 2017, estate agents have also paid the second largest overall penalty sum of £1.6m. Only the money service businesses sector has been more heavily fined at a total of £4.7m, while accountancy service providers rank third with total fines valuing £510,000.
However, during this time the average AML fine issued to the estate agency sector sits at £3,711, just the fourth highest of all sectors.
So while the sector may have been subject to the most fines, the data suggests that the reasons behind these fines are not as severe as those issued within some other sectors.
Tim Barnett, CEO of Credas Technologies, which analysed the data, said: "At first glance, it might appear that estate agents are failing to get on top of their AML responsibilities. The sector ranks high both in terms of the total number of fines and their cumulative total, but the situation is more nuanced than the data might suggest.
"The majority of these fines are due to oversights rather than intended money laundering practices, with estate agents tackling a large number of transactions day in, day out, and this is evident given the fact that the average fine issued isn't as severe as many other sectors.
"However, we have this average fine starting to creep up ever so slightly and this is no doubt due to HMRC's promise to crack down on illicit activity within the property market.
"So while the sector has done an outstanding job at adjusting to the implementation of new AML regulations while tackling the pandemic property market boom, it can ill afford to take its foot of the gas."