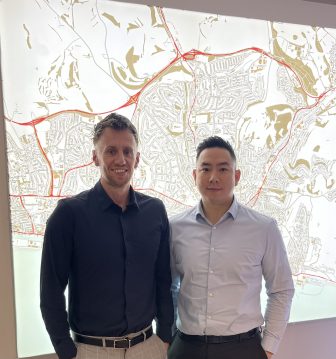 Nathan Crombie and Wai Lam of Belvoir Brighton & Hove have completed on the resale of Belvoir Haywards Heath & Burgess Hill, their fifth acquisition in seven years.
Crombie explained the background to the deal:
"The previous owners of Belvoir Haywards Heath & Burgess Hill decided to retire and after looking at the business we decided this was a resale that provided a great opportunity for us.
"The business has been established for about ten years and has just under 200 properties in the lettings' portfolio. It also does residential sales, which is a side of the business that we are looking forward to enhancing and expanding on to help improve the customer experience.
"Belvoir Haywards Heath & Burgess Hill is about 10-15 miles away from our Brighton office and we will be retaining them as two separate offices. It has a small team of three people who are staying with us as part of the deal.
"Wai and I have done several acquisitions of other agencies in the past, but as this was a Belvoir resale it was a fairly straightforward process.
"Geographically the business is quite close to the Brighton & Hove office, and so we already have a good understanding of the area and think there is a lot we can do to maximise the potential of the business. We are looking forward to working with the new team and continuing to provide great customer service to all of our clients."
Belvoir Group CEO Dorian Gonsalves said:
"I would like to congratulate Nathan and Wai on completing on the resale of Belvoir Haywards Heath & Burgess Hill, which is their fifth acquisition. This is a remarkable achievement and real testimony to their commitment, determination, and skills.
"I am very confident that these ambitious entrepreneurs will make a huge success of running Belvoir Haywards Heath & Burgess Hill and offer them my very good wishes for the future."