Estate agents could be among millions of workers granted the right to work from home forever under shock post-pandemic plans being considered by the government.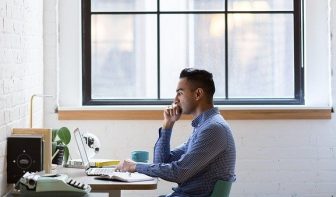 Ministers have reportedly proposed legal changes that would prevent employers from forcing staff to come into the office unless they can prove it is essential.
According to the Daily Mail, employers would be required to show it was essential for staff to attend the workplace in order to prevent them from working flexibly.
A Whitehall source told the newspaper: "We are looking at introducing a default right to flexible working. That would cover things like reasonable requests by parents to start late so they can drop their kids at childcare.
"But in the case of office workers in particular it would also cover working from home – that would be the default right unless the employer could show good reason why someone should not."
Cabinet office minister Michael Gove suggested earlier this week that the UK would not go "back to the status quo", referring to a hybrid model that included home working.
He told Radio 4: "Now, I suspect – and I'm not advocating this, I'm just thinking of the future – I suspect it may be the case that we may see different workplaces allowing people to work from home at certain points as well as coming into the office. I think there may be changes to the way that we live."
It could effectively allow agents to work from home for all or part of the week, indefinitely.
But following a backlash from businesses, No10 last night moved to dampen the idea of a post-pandemic "right to work from home".
Instead, the government said it was proceeding with a less comprehensive shift towards flexible working in the future, pointing out that it had already proposed a pre-pandemic plan first announced in the 2019 Conservative election manifesto to "encourage flexible working and consult on making it the default unless employers have good reasons not to".
Business groups have expressed support for flexible working but want the final decisions left to the employee and employer rather than the government.
Roger Barker, director of policy at the Institute of Directors, said: "It is for the individual businesses to decide what is right for their staff.
"We favour a move to flexible working but it would not be right for the government to take the decision out of businesses' hands."